To save cost and protect the environment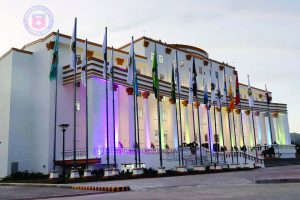 TACLOBAN CITY– The provincial capitol building of Leyte will soon be powered with solar energy before the end of the year.
This was disclosed by Governor Carlos Jericho Petilla, once the Energy Secretary during the ending years of the Aquino administration.
The governor said that using solar energy will not only be useful to the environment but on the practical side, help cut the province's monthly power cost.
"I am not really happy that the capitol building will be going solar. I will be happy if others will do the same. My vision is not to power ourselves with solar but really to educate the people and for them to use solar energy," Petilla said during a recent interview.
It was learned that the solar panels were installed on the roofs of the provincial capitol building, located in Palo town, to harness power from the sun.
The new provincial capitol building was built in 2020 under the administration of the governor Leopoldo Dominico 'Mic' Petilla and was completed two years later at a cost of P800 million with former President Rodrigo Duterte gracing its inauguration.
The governor did not mention how many solar panels were installed but said that they were enough to provide power supply of 36,000 kilowatts/hour to the entire provincial capitol complex.
And before the end of the year, the entire provincial capitol complex will be powered by solar, Petilla said, making them independent from the electric cooperative serving the area of Palo as well as the town of Babatngon and Tacloban City.
According to Petilla, they have spent P70 million on this solar panel installation project which he said may look big an amount but still could be recovered by the provincial government in about seven years.
He said that they are paying around P1 million monthly for its electricity consumption which could drastically decrease.
The governor said that installing a solar energy system will only cost P8 kWh, which is lower compared to the P14 kWh charged by the Leyte II Electric Cooperative (Leyeco II), the power cooperative.
Petilla also said that the solar panels have a lifespan of 25 years.
ROEL T. AMAZONA/ JOEY A. GABIETA