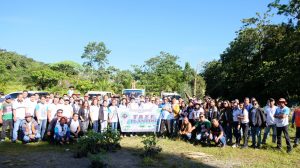 ORMOC CITY-In an effort to promote environmental sustainability, the Department of Public Works and Highways (DPWH) Leyte 4th District Engineering Office (DEO) recently conducted a tree planting activity with the theme: "Planting for a Greener Tomorrow".
Officer-In-Charge (OIC) Assistant District Engineer Peter Scheler V. Soco reported that a total of 250 Narra seedlings were successfully planted in the designated area in Barangay Lake Danao, a location recommended by the Department of Environment and Natural Resources (DENR).
"For development projects undertaken, there is a tree replacement ratio of 1:100, highlighting the dedication of the office to balance infrastructure development with environmental preservation," he stated.
OIC District Engineer Rosita A. Tinawin further underscored the sentiment saying, "The tree planting activity is important in order to preserve the environment and prevent flooding. More trees mean more lives will be saved." She also hoped that as the Narra seeds take root, they will not only help the environment but also protect fellow citizens living in low-lying areas.
This endeavor aligns with the broader national strategy to address climate change and its associated challenges while contributing to a greener and more sustainable future for the district.(PR)