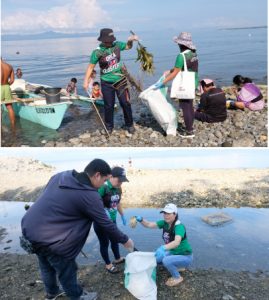 ALBUERA,Leyte – In a collective effort to ensure cleaner waterways for the marine ecosystem and coastal communities, the Department of Public Works and Highways (DPWH) – Leyte 4th District Engineering Office (DEO) employees participate in the International Coastal Cleanup (ICC) at Brgy. Poblacion, Albuera, Leyte. They gathered along the shoreline and collected up to 15 sacks of trash and debris that had washed ashore.
Officer-In-Charge District Engineer (OIC-DE) Rosita A. Tinawin stressed the importance of the activity stating, "This annual event not only promotes a global sense of environmental responsibility but also reduces the devastating impact of plastic pollution on our waterways."
"It's a powerful reminder that every small action counts, and together, we can combat one of the most pressing environmental challenges of our time," added OIC-ADE Peter Scheler V. Soco.
The ICC is an initiative of Ocean Conservancy, in partnership with volunteer organizations around the world, to bring awareness about the environmental issues associated with coastal pollution and promoting proper waste disposal. (PR)