CAPOOCAN, Leyte—The Department of Public Works and Highways (DPWH), Leyte Second District Engineering Office has recently completed bridge retrofitting and strengthening projects on the major highway of Palo-Carigara-Ormoc (PCO) road.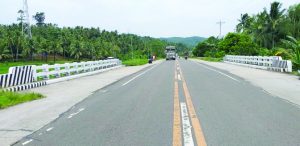 According to District Engineer Leo Edward Oppura, Candulman and Domiri bridges are along PCO road in the road section of Capoocan town has been retrofitted and strengthened to make the bridge structure meet the required standard, especially since it is along a major highway.
The project involves the placement of carbon fiber sheets under the bridge deck slabs to cover concrete cracks and prevent further extension of the concrete structure issues in order to improve the overall quality of the bridge.
"PCO is a busy road utilizing high volumes of vehicles daily; maintaining its pavement and bridges is our priority to provide the traveling public with smooth and faster travel," DE Oppura added.
This project, funded under the DPWH General Appropriations Act (GAA) 2023 Bridge Program: Retrofitting and Strengthening of Permanent Bridges, has a combined contract amount of P3.92 million and was completed on July 4, 2023.
(LIZBETH ANN A.ABELLA)