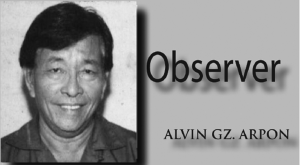 The P10-B pork barrel scam and other alleged stolen public funds has become monotonous on print and other info channels that confront us in our daily living. Whenever these two legislators (Jinggoy and Bong) come out to "defend" themselves they do not realize that the more they explain their side the more that they reveal their guilt – to me, at least. It's simply because their defenses are not convincing and at times even illogical.
-oOo-
These expose have been with us for a couple of months already. The BenHur Luy et al whistle blowing alone was convincing enough. This scam has been cemented and strengthened with the revelations of Ruby Tuason who bravely disclosed that she personally delivered the money, millions at that to these two movie stars now senators. Recently former Technology Resource head Dennis Cunanan also revealed kickbacks received by both of these two grandstanding thick-faced legislators has further strengthened the case.
-oOo-
The problem now is when will the trial begin? This has to begin for the following obvious reasons:
1) These are millions of pesos of hand-earned taxpayer's money that are in the personal account of corrupt suspects. Worse is, it is of common knowledge to the people that these legislators are already handsomely paid of salaries far beyond and unreasonably much over their individual performance in lawmaking. Besides they enjoy fantabulous allowances and other perks some of which are beyond our knowledge. This scam that runs to millions MUST be returned to government coffers. If Ruby Tuazon has boldly confessed of having earned millions (P14 m?) just being a bagman of Janet Lim Napoles, the suspected prima donna of this corruption syndicate and is willing to return that money to government, legislators who are addressed "honorable" should be bothered by their conscience if they refuse to return these ill-gotten government funds they probably now possess.
2. These legislators especially the Big Three (Estrada, Revilla, Enrile) have boldly declared that they have not taken a cent (though no one believes); so with more reason to let the trial begin as soon as possible, and let the hearings be an open court, to be covered by media, to restore their credibility; (though at the moment is zero to us).
Otherwise, if found guilty lock them up in jail!
-oOo-
We wonder how easy it was to convict and oust Erap; how easy it was how our government put GMA behind bars, albeit via hospital arrest. Why does it take this long just to begin the hearings for these 3 senator- main suspects and many others? They allegedly commit a similar crime!
-oOo-
Will this country experience once more of that over almost 3- decade hearings of the Marcos plunder; 3 decades (30 years?) to recover just a part of his ill-gotten wealth and still trying and investigating. Tama Na! Sobra Na! Dalian!