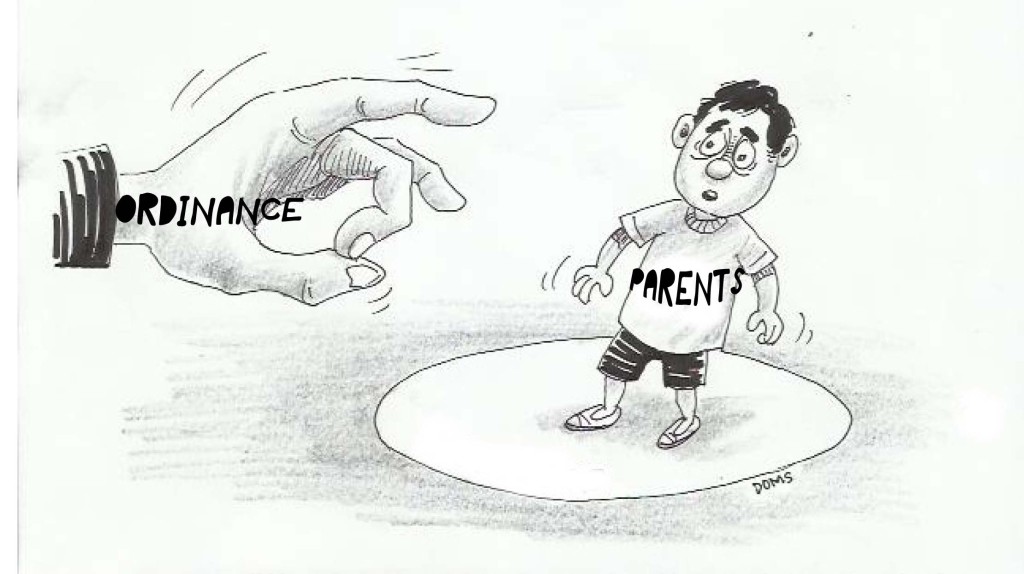 The fundamental law of the land recognizes the vital role of children and youth in nation building for which it shall promote and protect their physical, moral, spiritual, intellectual and social well-bring. In furtherance thereof, the state declares to likewise recognize the right of children to assistance, including proper care and nutrition, and special protection from all forms of neglect, abuse, cruelty and exploitation, and other conditions prejudicial to their development. This protection does not exclude such as against their parents and guardians.
Recently, certain local government units in Metro Manila have concretized in their government policies this protection due the touted hope of the motherland. The LGU of Mandaluyong City is in full implementation of an ordinance penalizing the parents of minors who are found to have committed infractions of law and violations of local ordinances. In as much as the minors are seemingly clothed with impunity under the Juvenile Justice and Welfare Act of 2006 (RA 9344), in that other sinister minds are utilizing them in the perpetration of crimes, the local edict will run after the parents or guardian who are remiss in their responsibility of looking after their own children or wards.
The city governments of Muntinlupa and Quezon were reported to follow suit. These LGUs see the need to discipline not only the children in conflict with the law but the parents as well who are primarily reposed with the natural duty and obligation, not only to their Creator, but also to the society. Needing intervention are not only the children, but the parents, too, who are accountable to the community for whatever wrong their children do that mar the peace and orderliness in their locality. The children in their custody are their accountability.
Is it not the rationale in putting the children under the custody of a reception center, preferably a rehabilitation facility? Parents are duty-bound to discipline their children and ensure the society that they will be raised as well-meaning citizens. However, if by the misdeeds of their children they provide the state and the society the impression that they renege in their responsibility, their children are placed in an institution that the latter will be reformed.
Notwithstanding this deprivation of direct parental supervision, there are parents who rather push their children to err and be placed in correctional institutions as way of escaping their elementary responsibility of caring and providing the basic needs of their misguided children. Therefore, to break this unproductive habit and seen as a measure to effectively minimize the incidents of children involving in crimes, the parents should be penalized.