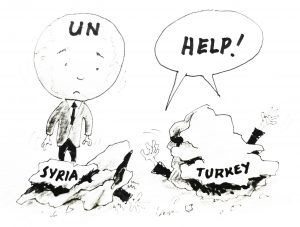 With the confirmed death toll in Turkey and Syria now totaling more than five thousand, and with the United Nations estimating the overall casualties to be more or less twenty thousand, we can only imagine how devastating the recent earthquake was to the lives and properties of those affected countries.
Up to now, rescue and retrieval operations are still ongoing, as thousands of those trapped under the collapsed buildings and infrastructures are still buried under rubble. In fact, with the absence of heavy equipment that could help them upturn those boulders of debris, some people are just desperately using their bare hands to unearth their loved ones who, they know, are still underneath.
Due to the massive destruction, roads are not passable for the delivery of relief goods and heavy equipment to use in the clearing operation. As people huddle together under the mountains of debris, they are likewise battling not just with strong aftershocks but also with freezing temperatures. In addition to the missing persons, many of those who were fatally injured are dying every day, with scarce to no medical facilities and equipment to use.
These places are indeed engulfed by a harrowing disaster, and they need help in several aspects, foremost of which are food, water, shelter, and clothing. Much as the world would like to help them, the situations in the area prove to be unfavorable, aggravating the catastrophic effects. We can only expect hunger and disease to proliferate, more so since these places have been ravaged by war and endless conflicts.
As equally prone to various natural calamities, we can learn lessons from their experiences. In the area of engineering and infrastructure development, for instance, our structures should be built with the capacity to withstand powerful quakes. Heavy pieces of equipment should be fielded in densely populated centers, ready for use in cases of rescue and retrieval operations. Anything that could mitigate disaster effects should be in place. It's better to anticipate than wake up unprepared.