3 Leyte towns identified as pilot areas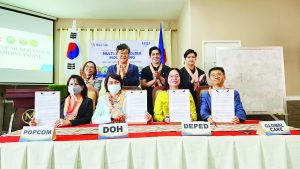 TACLOBAN CITY-The Global Care together with Korea International Cooperation Agency (KOICA) signed a memorandum of understanding with several government agencies which aims to address the problem of teenage pregnancies in Leyte.
In particular, the program has identified the towns of Barugo, Carigara, and Jaro as the pilot areas of this undertaking.
A memorandum of understanding was signed by Global Care Philippines, an international development and health non-government organization, KOICA with its partners which include the Department of Health (DOH), the Department of Education (DepEd), and the Commission on Population and Development (Popcom).
Kim Eunsub, KOICA country director, and Lydia Sagong, the branch manager of Global Care Philippines, led in the signing of the agreement held last Wednesday (May 3) at the Madison Hotel, this city.
Also signing the agreement were DOH Regional Director Exuperia Sabalberino, DepEd Regional Director Evelyn Fetalvero; and Elnora Pulma, Popcom regional director.
Among those present were Jaro Mayor Jassie Tanala and Carigara Mayor Eduardo Ong, Jr. who both promised to fully support and commit on the program.
Kim, in his speech, said that the project shows that South Korea through KOICA is one with the Philippine government in solving the rising teenage pregnancy cases in the country.
He added that through this undertaking, the problem of teenage pregnancy will be given a solution and in the process, assures a bright future among teenagers, especially in the three Leyte towns.
"It is indeed my sincerest hope that this project will prosper…and promote better living standards, especially among adolescents," he said in his speech.
Sagong, meantime, said that under the program, several measures and activities will be implemented for the next three years of the program.
She said that during the program implementation, there will be an increase on adolescent sex and reproductive health awareness in the communities or down to the barangay level; build up information networks; capacity building for teachers; training for health workers; and conduct a teen mother support, among others.
It was learned that teenage pregnancy cases in these three Leyte towns are increasing.
Just for the first quarter of the year, Barugo has recorded 18 teenage pregnancy cases; Carigara, 14; and Jaro with over 20 cases.
Regional Director Sabalberino said that she is happy that the KOICA and Global Care Philippines is helping the DOH on this campaign.
"Teenage pregnancy is not just a problem to these three Leyte towns but in the entire country and is alarming. We hope with this undertaking, we can find a solution to address this very alarming problem among our teenagers, "she said.
JOEY A. GABIETA