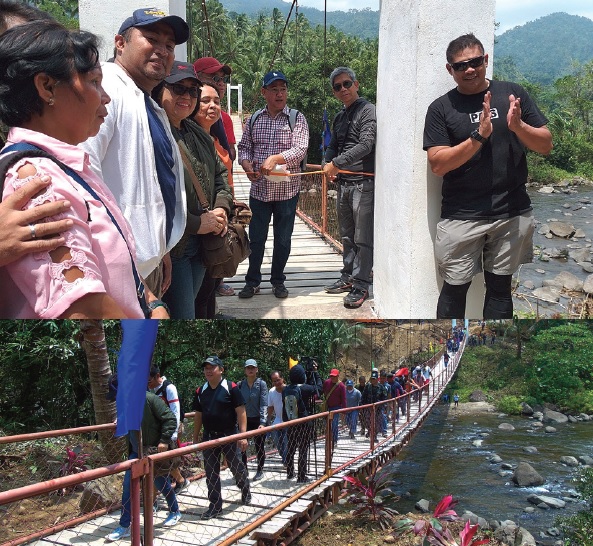 BURAUEN, Leyte – Gone are the days when New People's Army (NPA) move freely in upland Kagbana village to ask for food, recruit members, and secure fiesta celebrations.
Felipe Agustin, 39, a member of the Citizens Armed Forces Geographical Unit (Cafgu) said children in their village are lucky not to see men on foot with firearms asking for food in their community.
"I am now a Cafgu because I want to help protect our village from the threats of NPAs. I don't want our children to join the communist group just like me. It was the most unwise decision of my life," Agustin recalled.
Agustin joined the NPA between February to June 2009 when teenage women recruiters convinced him to join their organization.
"They're articulate, friendly, and quite attractive and that's why I was convinced to be an NPA. For four months, my task was to collect food supplies from donors. I always carried a firearm with me, but I was never engaged in gun battle with soldiers," he told the Philippine News Agency on Wednesday.
With the daily grind of hiding, dealing with hunger, sleepless nights, energy-draining hikes, and empty promises, Agustin said it was the darkest part of his life.
"After four months I realized that I was a victim of deception. I decided to leave their lair in the middle of the night and return to my family," he recalled.
In 2017, he started a military training as CAFGU member stationed in their community. CAFGU is an irregular auxiliary force of the Armed Forces of the Philippines. The military established a detachment in Kagbana early of 2018.
"The first thing that we did when I joined CAFGU was to check our former lairs upland. We found out all of those were already abandoned. The NPA's are gone," said Agustin, a father of two.
His cousin, Mary Jane Amat, 34, told PNA how their village get used of NPA's presence before 1980s until 2010. His father, Ponciano, who served as village chief for decades until 2007, was killed a by a group of eight NPA fighters in 2009 on suspicion that he's part of military intelligence network.
"Our community is very peaceful now that my father's murderers are gone. Back in a day, we were bothered by the NPA's activities in our community for fear of being caught in a cross fire between soldiers and rebels," she added.
Amat, who now works as public school teacher in Kagbana, is the first college graduate in their village. She's one of the three teachers assigned in the community, teaching 68 kindergarten and elementary learners, including some children of Mamanwa tribe.
"In my own simple way, I have been teaching children to never embrace the ideology of NPAs. I think there's no turning back with all the changes happening in our community as part of the government's effort to eradicate insurgency here," Amat shared.
Kagbana, some 40 kilometers away from the town center of Burauen, is considered as the most remote community in Leyte. To get there from Tacloban City, one has to take an hour land travel to San Vicente village in Macarthur town, take a less than an hour bumpy motorcycle ride, and hike for two hours along steep slopes.
The village has 300 residents, including 25 to 30 members of Mamanwa tribe who settled in the village since 1980s.
Capt. Jay-ar Cuevas, operations officer of the Philippine Army's 78th Infantry Battalion, said the village used to be a strategic base of NPA fighters considering its proximity to upland communities of Baybay City and Ormoc City.
"After the last encounter with Army and rebels in 2016, we came up with a comprehensive development plan to eradicate insurgency here and we presented it to the local government officials," Cuevas said in an interview.
The military opened the detachment within the village in February 2018 manned by three soldiers and 30 militiamen. A month after, Leyte Governor Leopoldo Dominico Petilla and Burauen Mayor Juanito Renomeron sent agriculture experts to train community members on modern farming.
Locals have been producing high value crops since last year and started their piggery business early this year. The project also got funding support from the Office of the Presidential Adviser on the Peace Process (OPAPP).
"We are also committed to open a road network going here. The provincial government has already spent P30 million to develop the area. Another P20 million is on the pipeline for the road opening and concreting," Petilla said during his visit here on Wednesday.
Mayor Renomeron is optimistic that with all development initiatives, there's no more reason for villagers to welcome the NPA in their communities.
"If our town is peaceful, we will attract more investments and tourists. With this road project, it will be easier for people to bring copra and abaca to traders," the mayor added.
Burauen is a 1st class town in Leyte province. It is known as the fountainhead of several rivers in central Leyte. The town has a land area of over 30,000 hectares divided into 77 villages bordered by two cities and eight towns.
(SARWELL Q. MENIANO/PNA)