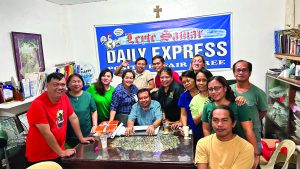 Military maintains vow to crush EV insurgency
TACLOBAN CITY – The death of Communist Party of the Philippines (CPP) founder Jose Maria "Joma" Sison is an opportunity to strengthen local peace engagements, an official of the National Intelligence and Coordination Agency (NICA) said.
NICA-Eastern Visayas Regional Director Eustacio Bacabac said Sison's death ends the chapter of CPP under the latter's leadership who rejected localized peace talks.
"He (Sison) was against local peace engagements, which the National Task Force to End Local Communist Armed Conflict (ELCAC) has been doing. The change of CPP leadership is an opportunity for us to attain peace," Bacabac told reporters during a press briefing at Hotel de Fides here Wednesday (Dec.21).
In 2018, Sison rejected local level peace talks ordered by the administration of then President Rodrigo Duterte calling it a "waste" of government funds.
Bacabac believes that despite Sison's death, armed conflict will continue with National Democratic Front (NDF) senior adviser Luis Jalandoni as possible replacement of Sison. Established in 1973, NDF is CPP's political arm.
Sison, 83, died while he was in self-exile in the Netherlands on Dec. 16.
Meantime, Col. Erwin Rommel Lamzon, assistant commander of the 8th Infantry Division, reported that local task force ELCAC in the region initiated 2,173 local peace engagements in communities vulnerable to threats of the New People's Army (NPA), the CPP's armed wing, this year.
"The local peace engagements (LPE) involve capacity building, community consultations, local peace dialogues with NPA members. These activities primarily seek to end local armed conflict, community resilience, good governance, and transformed former rebels and their family members," Lamzon added.
The LPE has immersed 259 remote villages that led to the withdrawal of 3,505 civilians from local chapters of CPP-NDF-NPA.
Direct negotiations persuaded 104 NPA combatants to abandon the armed conflict and returned to their families, according to Lamzon.
There are still four remaining NPA guerrilla fronts in Eastern Visayas with concentration in the mountains of Northern Samar province, according to the military.
Lamzon said that they remain confident that early next year, they could dismantle the insurgency in the region.
"We promise that Eastern Visayas will have a merry Christmas," he said.
SARWELL Q. MENIANO/PNA with JOEY A. GABIETA