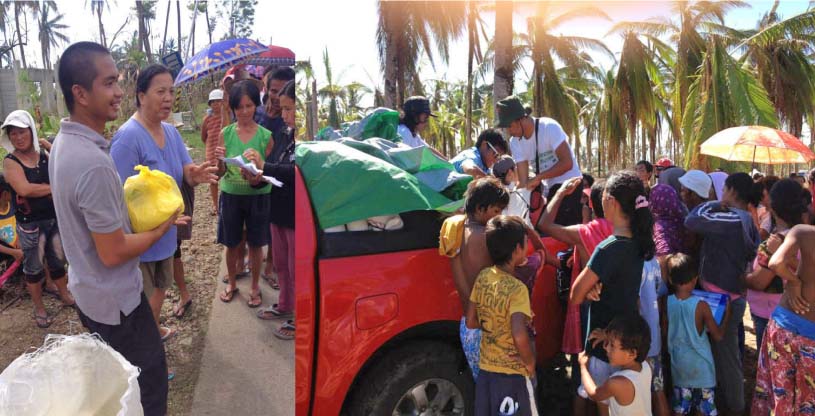 On November 8, Jason Paulo Ty Tentativa was at PhilHealth Manila, the day his application for a job was accepted. At the PhilHealth office, he chanced upon an updated news report aired at station GMA-7 on the massive devastation super typhoon Yolanda brought to Tacloban and nearby towns. The young professional who just passed the nursing board felt shivers running down his spine, thinking of his mom and dad who live at V & G Subdivision.
The large number of fatalities in San Jose Tacloban and some parts of Palo got him engulfed in fear.
Ano daw la adi hira Mama; hira Papa? was the question that ruled his mind.
The following day Jason, upon knowing that flights to Tacloban were cancelled gambled a chance to join others at the Villamor Airbase, bound for Cebu. From Cebu he took a boat to Hilongos, Leyte. He boarded a Hilux to Tacloban and on Nov. 11, 3 days after the typhoon, he was home.
Coming home and entering Abuyog and passing through Macarthur, Mayorga, Dulag, Tolosa, Tanauan down to Palo, before his eyes was unbelievably bared massive destructions of dwellings even of the rich, felled coconut trees and even those standing were either cut down while other still bearing their leaves albeit disheveled showed signs of inutility. He learned further that deaths were all over town especially in Tacloban.
At home, while happy seeing his parents smiling – as lucky survivors, his inner self was bothered by the Yolanda tragedy to the victims who are homeless and hungry, shirtless who displayed blank stares of worry where they will go; what they will do and who they will go to for succor.
Jason has read these signs so he organized a team among friends, raised funds and the first donor was his father, Dan, who is a Sangguniang Bayan member of Isabel. Other donors gave. He went back to Cebu with the same purpose; sought help from his APO fraternity. With the money he bought relief goods and came back to Tacloban sought once more the help of barkada to pack the goods consisting of rice, sardines, corned beef, tooth brush, tooth paste, soap and shampoo.
They distributed these goods to San Jose, Nula-tula, Salvacion, Palanog,other parts of Tacloban and Basey, Samar.
The JAH group also distributed nails, tarpaulins even donated to some destitute families, hammers and saws.
Jason says that JAH stands for GOD or to him personally it stands for JESUS Always HELPS!!