Celebratory welcome awaits the foreign guests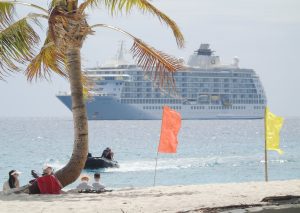 PALOMPON, Leyte– All is set for the visit of an international cruise ship to Kalanggaman Island, this town, next week.
The tourists who are on board the Silversea Cruises are to expect a festive welcome to ensure they will have a memorable stay in the province, Estiffi Jahn Gryce Estrella, who is in charge of the events for the occasion, said.
Estrella said that preparations for the much-anticipated arrival to the island of the international cruise ship are now underway.
Silversea Cruises, a luxury cruise operated and owned by the Royal Caribbean Group based in Monaco, is the first cruise ship to visit the country after the government loosen up restrictions due to the pandemic caused by coronavirus disease (COVID-19).
The 382 guests of the Silversea Cruises will be welcomed by a cultural festival showcasing traditional dances from different parts of the country.
Local cuisines with a twist will also be served to the guests prepared by two of the best chef in the region, Estrella said.
Aside from the guests, also going to the island are the 295 crew of the cruise ship.
Estrella said that more than 500 people are involved in the preparation for this 'momentous occasion' that will mark the return of the global cruise ship three years after travel restriction was imposed throughout the world due to the global health problem.
A series of coordination meetings and inspections were conducted months before the arrival of the cruise ship to ensure the comfort and safety of the guests.
Trainings like the Filipino Brand of Service (FBS) were also supervised by the Department of Tourism for all the local crew involve in providing hospitality services to the foreign guests.
Participants of the FBS include dance performers, members from the hospitality sectors; and personnel from the Bureau of Fire Protection, Philippine National Police, Philippine Coast Guard, Rural Health Units, and local government unit. (ROEL T. AMAZONA)