TACLOBAN CITY– Senator Imee Marcos welcomed the visit of former president Rodrigo Duterte to China saying it could lead to possible help on the current territorial dispute between the two countries.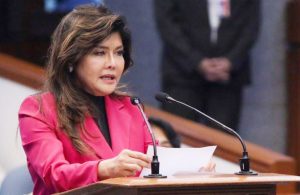 The senator said that any speculations as to what really the purpose of the visit of her brother, immediate predecessor would not help the current relations between the Philippines and China over the West Philippine Sea or South China Sea row.
"I'm sure former President Duterte will be an invaluable asset to the dialogue…and has a great contribution to make," Marcos said in a brief press conference on Wednesday(July 19) held at the City Hall attended by her cousin, Tacloban City Mayor Alfred Romualdez.
"And I hope he will pursue that dialogue and help us unravel the many troubles we had in recent past," she added.
Marcos also cautioned the public not to make any speculations on the July 17 visit of Duterte, a close ally of the senator.
"Huwag tayong maging suspitsoso, mapra-praning lang tayo," she said.
The senator also said that like Duterte, her mother, former first lady Imelda Marcos, is also close and a friend to the Chinese.
"Kaya hayaan na lang natin sila, baka makatulong. Malaking bagay yun," she said.
Meantime, Marcos, who chairs the foreign relations committee at the Senate, lambasted the decision of the International Criminal Court (ICC) denying the appeal of the Philippine government on the brutal anti-drug war waged by the Duterte administration.
Sen. Marcos said that the ICC was gravely wrong in denying the appeal of the Philippine government considering that it is also addressing issues relative to the drug war, notably on the extrajudicial killings (EJKs).
She said that the local courts have already convicted police authorities due to the EJKs.
In 2018, a court convicted police officials who were involved in the killing of Kian de los Santos, one of the high-profile cases of the Duterte drug war.
The police accused the 17-year-old as a drug runner. The family denied the claim of the police.
"It's very, very cleared that those guilty of EJKs have been punished," she said, adding that our courts are functioning.
"Papasok kang dapat sila pag walang korte, walang umaandar na hidikatura.Pero dito sa Pilipinas, buhay na buhay ang ating judiciary. There is no reason for them to intervene in our internal affairs," Marcos said.
(JOEY A. GABIETA)