TACLOBAN CITY-The house of the mayor of Can-avid town in Eastern Samar was hit by a fire incident on Monday (July 17) early morning with the said local leader unharmed.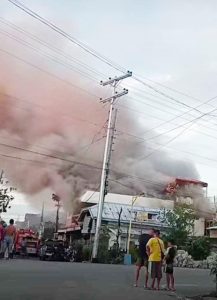 Fire authorities in the town see 'faulty electrical wiring' as the possible cause of the fire.
FO3 Nico Balayanto, the fire investigator, said that the second floor of the house of Mayor Vilma Germino was engulfed by the fire that started at about 4:55 am.
"Based on our initial investigation, the fire started in the stock room which was located on the second floor of the house with the son-in-law of the mayor first to notice smoke emanating from the (stock)room," Balayanto said in a phone interview Tuesday(July 17).
At that time, the fire officer said, Mayor Germino was already awake in her bedroom, which was also on the second floor, doing her early morning prayers.
Germino, together with other occupants of the house, located in Barangay 7, rushed outside the house, which was mostly made of concrete materials.
"Only the second floor of the house was affected by the fire which was declared fire out by 6 am. Right now, we see faulty electrical wiring as the possible cause of the fire as we see no other possible ignition source," Balayanto said.
They placed the damage cost at P4.5 million mostly involving personal effects of Mayor Germino.
"The mayor was unhurt though she was shocked due to the fire incident that hit her house," the fire investigator said.
He added that the ground floor of the house was not affected and the mayor is now staying in her other house in the town proper.
Mayor Germino could not be reached for her reaction to this incident.(ROBERT DEJON)