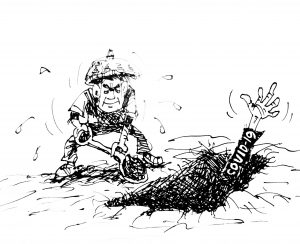 Finally, the Department of Health (DOH) has recently concluded that Covid-19 cases in the country have become "manageable" after it exited from the top 10 leading causes of death in the Philippines in the past year.
This is based on the Philippine Statistics Authority (PSA) data, covering the period from January to September 2022. It slid down eight places from being the 3rd leading cause of death in the country during the same period in 2021. It had gone down further to 19th leading cause of death, with 4,134 fatalities reported, down from eighth place in 2021.
In a recent media briefing, Health officer-in-charge Maria Rosario Vergeire said that the decrease in the number of deaths meant that the country is now able to manage Covid-19 infections that lead to fewer deaths. That we can prevent further deaths from the disease is good news, indeed.
With the Covid-19 pandemic slowly disappearing, we are finally seeing the restoration of normalcy in our societal activities. We do not just resume our routines, but we also feel safer now that this highly communicable disease is more or less over. At least, the leading causes of death in the country are not that highly infectious or communicable—heart disease, stroke, cancer, diabetes, and hypertension.
One good thing that the pandemic taught us is that, as a nation and people, we became extra conscious about the need for a taught us is that, we as a nation and people became extra conscious about the need for a healthy lifestyle, sanitation, self-protection, and strict observance of health protocols. We should not forget all this; we should instead continue to promote health standards in our daily living and interactions with people. Above all, we should thank God for protecting most of us from that deadly virus.