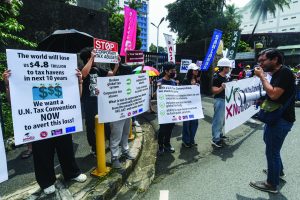 TACLOBAN CITY– Various civil society groups have urged lawmakers, the Department of Foreign Affairs, the Office of the UN Resident Coordinator, and government leaders in Asia to support a "just, equitable, progressive, reform of the international tax architecture" through the upcoming UN Tax Convention.
"The massive profits that large corporations and wealthy individuals have gained through the exploitation of tax systems in the Philippines and around the world should be handed back to workers, farmers, women, youth, and other basic sectors through progressive taxes like wealth taxes and the repeal of regressive, anti-people taxes like value-added taxes (VAT) that only raise the prices of basic goods and services," said Fara Diva Gamalo, Eastern Visayas coordinator of Sanlakas, on Tuesday(Sept.19).
Civil society network Asian Peoples' Movement for Debt and Development (APMDD), together with multisectoral group Sanlakas, women's group Oriang, ALMA-QC, and Kilusan para sa Kabuhayan, Kalusugan, Kalikasan, at Katiyakan sa Paninirahan – QC (K4K-QC), organized the "Open Letter handover" in the country "to assert that the billions in revenue lost directly translates to a lack of funds to secure peoples' rights to public services at a time when prices of basic goods and services are constantly rising."
The open letter, signed by over 40 grassroots organizations across Asia and entitled "UN Tax Convention Now: A Call for Urgent Tax Justice," calls on governments in Asia to back demands from peoples' movements and tax justice advocates from around the world.
According to the groups, the "Open Letter handover" was part of the Asia Days of Action for Tax Justice, a week of civil society actions calling for justice in national and international tax systems under Tax and Fiscal Justice Network Asia (TAFJA), an Asia-wide network of grassroots organizations campaigning for tax justice.
The groups' advocacy campaign, which runs from September 18-22, coincides with the opening of the 78th Session of the General Debate of the UN General Assembly, where member states will discuss the options moving forward for a UN Tax Convention as laid out by UN Secretary-General António Guterres in his 2023 Tax Report.
Citing a 2023 report by the international tax justice advocacy group Tax Justice Network, the Philippine-based civil society groups said that the government's revenue losses total a staggering $ 480 billion annually due to tax abuses, particularly from multinational corporations and wealthy individuals. (RONALD O. REYES)