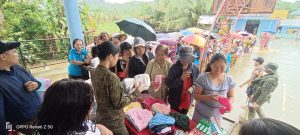 TACLOBAN CITY – The members of the PNP-8 press corps and other charitable groups extended assistance to flood victims in Barangay Opong, Catubig town, Northern Samar last Friday (Jan. 27).
Opong is one of the hard-hit areas of Catubig when it experienced heavy and continuous rainfall which resulted in flooding and affected all the 218 families of the village which is located near a creek.
"Flood water was so high that we have to use a boat," village chairwoman Silma de los Santos said.
"We are thankful for all those who extended help to us," she added.
The residents of the village received food packs, hygiene kits, and clothings from the groups which were assisted by soldiers from the 8th Infantry Division.
de los Santos said that it took several days before the flood subsided in their village.
The village official added that aside from the inconvenience brought by the flooding, their livelihood was also affected as the majority of the villagers work in the farms which were also inundated.
Opong had earlier received assistance from the provincial government.
(ROEL T. AMAZONA)