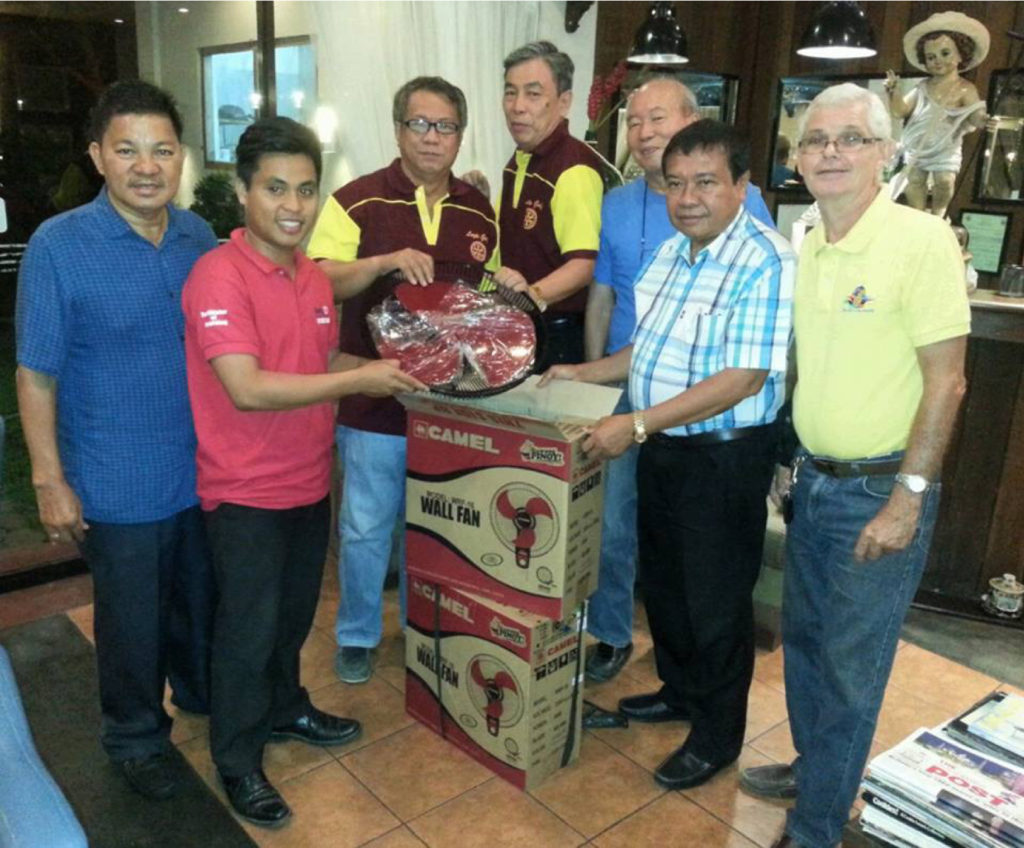 TACLOBAN CITY- Last August 19, 2016 at Hacienda Verde, Utap, this city, was a special day for Rotary Club of Leyte Gulf as it was the 12th Induction of new set of officers of the Club for the year 2016-2017. The new set of officers are the following: President-Dalmacio C. Grafil; Vice-President-Wilfred A. Diu; Treasurer: Jose E. Clarin; Secretary: Humberto S. Franco; and Club Directors Emmanuel K. Veloso for Club Administration; Loreto T. Yu for Public Relation; Daniel G. Matriano for Membership; Francisco Andrade for Community Service; Cesar E. Lee for New Generation; Ralph A. Salazar for Rotary Foundation and Reynaldo B. Alip as Immediate Past President.
The Rotary Club Leyte Gulf conducted several medical missions in Quinapondan, Eastern Samar, Naval, Biliran and Tabango and San Isidro, Leyte. It distributed bags and jogging pants to Tagpuro Elementary School in Tacloban City; donated 2 electric fans to Sto. Niño Sped Center also in Tacloban and school supplies to Capirawan Elementary School at Palo, Leyte.
President Dalmacio Grafil, the newly inducted president of Rotary Club Leyte Gulf, emphasized that the Rotary Club will unify as one driving force to which our community and help better the lives of those that need most. Its primary focus is on youth and education and the development of young people in our schools and local organizations. The Club needs to contribute new ideas but above all, to participate in developing those ideas into real life projects. He asked for the active participation and inspired contributions of every member while he pledged to work and strengthen the Club as its President. He said he is humbled by the confidence given to him as president of the Club. It only means that he is taking a greater share of responsibility to the Club and its members. He is looking forward to projects that will provide opportunity to highlight the Club and to work best when we have a common project to unite all members. As the Rotary motto says "Rotary Serving Humanity."
The highlight of the activity was the presentation of the three adopted Children of RC Leyte Gulf which is the brainchild of Rotarian Jean Marechaux. Leyte Gulf adopted the children Sandie Centula, 17 years old, a 3rd year high school student; Chosua Centula, 13 years old and 1st year high school; and Cindie Centula, 11 years old and Grade 6 pupil.
They were introduced to John Marechaux six years ago by Daisy Labanta and Josh Zyss. Jean knows that the children needed special attention and help. They were on their own as their mother died from disease and their father married another woman and has a new family somewhere in Tacloban City. They supported themselves by going to dumpsite located near their place by selling Kangkong and asking food from neighbors. They quit school for one year and mere encouraged to go back to school They are new enrolled at the Lucio Vivero Memorial School at New Kawayan, Tacloban City. These adopted children of RC Leyte Gulf will be given food, rice, potable water, clothes and medicines if needed. They viel also by provided with complete school uniform and school supplies. During the induction ceremony, the members of RC Leyte Gulf donated the amount of P6,000 for their miscellaneous expenses in going to school. Indeed this is one act that shows that "Rotary is Service Humanity".
Congratulations to all the officers and members of Rotary Club Leyte Gulf. (JOEY E. CLARIN)