TACLOBAN CITY– Samar Governor Sharee Ann Tan spearheaded the grand launching of Sirak Kabataan's purple desk on September 20, 2023.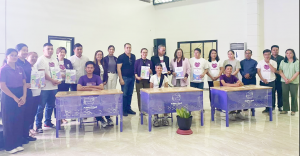 Sirak Kabataan's purple desk is a safe space for any youth who are experiencing mental health problems.
Tan was joined by the school division superintendents and more than 300 school heads of the three divisions of the Department of Education in Samar as well as representatives from Samar State University (SSU) and Northwest Samar State University (NwSSU), Sirak Kabataan movers and student leaders.
Tan said that the purple desk envisions to provide first-aid counseling, as well as stress and anxiety management in all schools, in every barangay, and workplaces across Samar to ensure that primary mental health services are available and accessible to all Samarnon.
The establishment of the Sirak Kabataan purple desk is a public health innovation and intervention for the Samarnon youth and their families with the participation and involvement of the local government units, the Department of Education, and the state universities in the province.
(LIZBETH ANN A. ABELLA)