GAMAY, Northern, Samar-The grand alumni homecoming 2023 of the Gala Vocational school (GVS) in this town was successfully held on Sept. 16.

The annual grand alumni, which this year carried the theme" Turupo Bisan Hagrayo Basta Magkasarayo," was held a day after the fiesta in honor of the town's patron saint, Michael De Archangel.
Before the parade, a Thanksgiving Mass was celebrated by Frs. Cleofas Anunuevo, Oscar Atibagos, and Gervacio Osias, all natives of Gamay, held at the school's Center for Culture and Arts Quadrangle.
At 7 am, a parade around the town was held which featured 'TRASHION Costume' contest and was participated by different batches. An hourly raffle draw was also held.
After the parade, a short program was held with Mayor Raquel Capoquian delivered her message and was followed by several parlor games joined by the different batches.
On the night of Sept.16 was highlighted with the crowning of Miss Emmelee Gomba Kojima as GVS Alumni 2023.
This was preceded by a short program with Jose Mozart Arzadon, chair of Batch '95 as this year's sponsoring batch.
He delivered his opening message and warmly welcomed all the batches, visitors, and guests who were in attendance at the jampacked gymnasium.
Meanwhile, Josephine Paderog-Blancaflor, a financial analyst based in New York, USA, who served as the guest speaker and class valedictorian of Batch '95, in her inspiring message, urged her fellow Galanians to be more assertive in dealing with their respective field of endeavor aimed at achieving their goals".
This year's theme also served as the guiding principle not only the GVSAA but the whole community as a whole headed by former mayor, Dr. Tim Capoquian Jr., and at same pointed out, " nga apisar San naglabay nga mga nagkaput San organisasyon nga waray ini nga prohekto matapos, tungod San pagburubleg, natapos guihapon an aton alumni hall".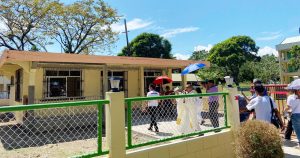 And during the occasion, the newly-finished Alumni Hall was inaugurated and blessed. During the nights affair which was filled with entertainment from GVS Teachers performances and the Kuracha dances, it was highlighted by the crowning of Miss GVS Alumni 2023 from a 10-minute Kuracha performance.
In her closing statement, Marietta Lucero-Villas, GVS school in-charge gladly said, " tungod San bug-os nga suporta San tagsa-tagsa nga mga Batches San aton higugmaon nga Eskwelahan, labihan nagud an buleg San lokal nga gobyerno San aton bungto nagin mabinungahon an aton homecoming sini yana nga tuig nga kunta hasta sa tidaraun pa nga aton Alumni Homecoming maspa nga mas maribhung ngan damu pa nga mga prohekto an aton pagburubligan para San kaupayan san at eskwelahan. (PETER PAREDES)