With just less than 10 percent vaccinated Leyteños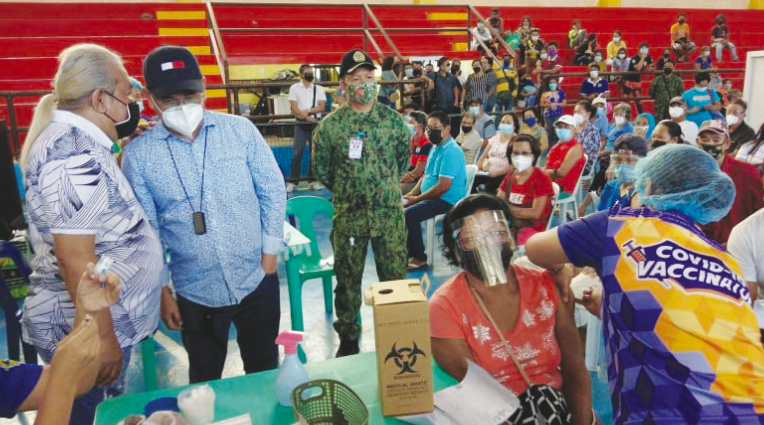 TACLOBAN CITY – After almost seven months of vaccination campaign here in Leyte, less than 10 percent of the target population have so far received the jabs.
And with this low number of vaccinated persons, Governor Leopoldo Dominico Petilla is calling the national government through the Department of Health (DOH) for more supplies of vaccines against coronavirus disease (COVID-19).
He also urged local government units to fast track their vaccination campaign for Leyte to achieve its own herd immunity before the end of this year.
Based on the report of the Provincial Health Office (PHO) provided to the Provincial Inter-Agency Task Force chaired by Petilla, Leyte has only achieved 9.89 percent of its vaccination campaign as of Wednesday (Sept.1).
The 9.89 percent represents 107,043 people from the 40 towns of the province and the city of Baybay. The cities of Tacloban and Ormoc are not included being independent administratively from the provincial government.
Leyte has so far received 162,426 doses of vaccines from the DOH.
It was learned that for Leyte to achieve herd immunity, at least 70 percent or 1,082,094 out of its more than 1.54 million population need to be vaccinated.
"If we will hurry, we can do the first and second dose to the remaining 900,000 Leyteños in two months. We can do that based on the capacity that we have seen and then whatever vaccine is sent to us, we can do that," Petilla said.
The governor also said that a freezer procured by the provincial government to be used in storing the Pfizer vaccines had already arrived in the province with a freezer used to store for Moderna vaccines arrived last July.
The PHO keeps the freezers for these vaccines.
Gov. Petilla said that the freezer for Moderna vaccines has the capacity to store more than 150,000 doses while freezer for Pfizer can store more than 200,000 doses.
With these freezers, Petilla hope that the national government will provide more vaccines to the province to fast track its inoculation campaign against coronavirus disease (COVID-19).
Further, with the cases of Delta variants reported in in the region, the Leyte governor said that the government should consider putting up genome center in other areas like in the Visayas to fasttrack sequencing process in determining presence of variants of concern.
Petilla said that in the present situation, it will take several weeks to a month before a COVID-19 patients learn if they are infected with a particular variant.
"I hope na madagdagan nila ang laboratory, if they really want to pursue na maging… ano bang tawag dyan, parang halos labas kaagad ang resulta ng Delta, hindi yung maghihintay ka ng isang buwan or several weeks bago mo malaman, nakarecover na ang pasyente," Petilla said.
In Leyte province, two cases of Delta variants were reported by the Department of Health (DOH), one is in Hilongos town, an OFW who is currently under isolation in Metro Manila, while the other is a pregnant women from Hindang who is currently under isolation in the facility of the municipality.
Leyte province based on the data from the Department of Health Eastern Visayas has a total of 14, 893 confirmed COVID-19 cases as of August 30.
Of which, a total of 14, 073 had already recovered, 696 are active cases with 124 recorded death.
Of the recorded cases 1,973 or 13.25% were mild cases, 329 or 2.21% moderate cases, 129 or .86% were severe cases, and 21 or .14% were critical.