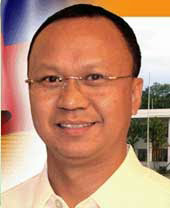 TACLOBAN CITY – A thorough investigation has to be made to know the real identities of the Chinese vessel crew who were rescued by the Philippine Coast Guard (PCG) off the coast of Guiuan after issuing a distress call.
Thus said Eastern Samar Governor Ben Evardone adding this could erase any doubts from the public on the presence of these Chinese nationals.
Still, the governor stressed that he is not imputing anything sinister, at least this time pending formal investigation on the incident.
"Unang-una diri kita maaram kun nag aano hira ngan kun tikang hira diin. An initial report waray hira mga dokumento," Evardone said.
"Para masigurado la kita kay nakadi hira ha atun teritoryo, although waray kita gin iimpute, para la kung waray man problema para liwat ma-clear hira, kasi may doubt it tawo, kun ano," the governor added.
Currently, the Chinese vessel is still docked around four miles away from Tacloban port as ordered by the Philippine Port Authority and the city government.
The Coast Guard monitors and conducts security measures while the vessel is docked in the waters of Tacloban.
The Chinese vessel, MV Kai Da 899, made a distress call on Jan.26 as it was said to have developed a problem on its rudder.
The said vessel, manned by seven-crew, was towed to the city, arriving Friday night.
The Coast Guard in the city said that they are providing all the necessary assistance to the Chinese nationals like giving them food and water.
This gesture of the PCG is commended by Gov. Evardone saying that it was good for the personnel of the agency to show compassion and humility to the distressed crew of the Chinese vessel.
(ROEL T. AMAZONA)