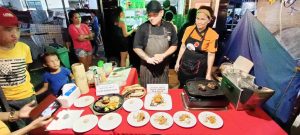 NAVAL, Biliran– The governor of this province, Gerard Roger Espina, led the 2nd Biliran Street Food Festival on Sunday (Oct.1) as he hopes that they could cash in on the culinary tourism being promoted by the Department of Tourism (DOT).
About 32 food stall owners, offering local delicacies, participated in this year's food festival held at the People's Park and is part of the lined-up activities for the Oct.7 town fiesta of Naval, the provincial capital.
"This is the best time for the province to showcase what we have in terms of the culinary arts," Gov.Espina said.
"This might be the key to discovering the next big dish and it comes from our province," he added.
Espina said that the food festival is also a way for the people of the province to appreciate their own dishes so that they can help them promote to a wider market.
One of the participants in the 2nd Biliran Streetfood Festival was Jelo's Place which showcased different twists of serving and eating Naval's popular "kakanin," the tinambiran, a variety of suman wrap in anahaw leaves.
Instead of just serving the tinambiran in the usual way, they first deep-fried it, served it with chocolate soil, drizzled it with caramel syrup, and vanilla ice cream, and garnished it with sweetened pasta.
Tourism Regional Director Karina Rosa Tiopes lauded this initiative of the provincial government to promote local dishes and food entrepreneurs of the province.
"With food, you can never go wrong," she said.
"As Filipinos, we love food. Whenever we gather, we talk about food. When we meet friends or relatives' food is always present, and whenever we visit places, we always look for dining places aside from beautiful sites and activities that we wanted to do," Tiopes added.
She further said that promoting dishes would help Biliran become a major player in the tourism sector because it offers several natural attractions like beaches, waterfalls, and even agri-tourism sites.
Meanwhile, the winners of this year's Biliran Street Food Festivals were the sushi baked from Danny's Grill for best in international flavor and 'sinigang sa watermelon' of Den's Bistro. Both won P15,000.
The Mango ala maja cheesecake of Upperlicious was named as the best 'Karanunun Tinam'isan' and lechon manok of Alfred's sushilicious and pulut pulut for best grilled. Both won P10, 000.
(ROEL T. AMAZONA)