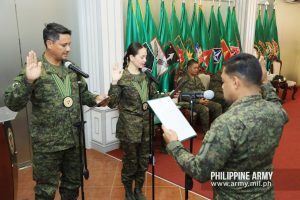 TACLOBAN CITY– Leyte Rep. Richard Gomez and his wife Ormoc City Mayor Lucy Marie Torres Gomez both received the Lieutenant Colonel rank in the Army's Reserve force during a commissioning ceremony on Fb.23 at the Philippine Army headquarters in Fort Bonifacio.
Lt. Gen. Romeo Brawner, the commanding general of the Army Gomez for not only his being an accomplished actor, athlete, and public servant but also for further establishing the face of the Philippine Army in the eyes of the public.
He also cited the achievements of Lt. Col. Lucy Marie Torres Gomez as a public servant and as an actress.
"You are not only exemplars of professionalism but you are also instrumental in the accomplishment of our vision of becoming a world-class, multi-mission ready, and cross-domain capable Army," Lt. Gen. Brawner said during the ceremony.
In his message, Rep. Gomez said that he feels honored and privileged being part of the Army reserve force.
"Sa pagpapaganda at pagpapaunlad ng bayan natin, magkakasama tayo rito. Let us continue to make sure that this country will grow. Let us continue to make sure that our country will be peaceful through our efforts," he said.
Torres-Gomez, for her part, said that now that they are now part of the service, she vowed that she will be with the AFP not just by name but in thought and in deed.
"If there is anything that I can do in my personal capacity and my official capacity, please know that I am here for you," she said.
Meantime, Major Gen. Camilo Ligayo, the commanding general of the 8th Infantry Division, thanked the Gomez couple for supporting the development and security operations of the Philippine Army.
"The government's objective of ending the local communist armed conflict is highly commendable. Together, we are getting closer to realizing our dreams of reaching long-term peace," he said.
(ROEL T. AMAZONA/LIZBETH ANN A. ABELLA)