Seen to help revive region's tourism industry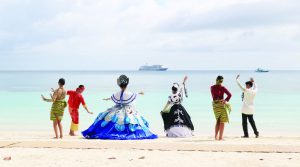 PALOMPON, Leyte– After over two years of hiatus, foreign tourists came in droves to the region, specifically to this town known where the famous Kalanggaman Island is located.
For almost 12 hours, the 228-strong foreign tourists enjoyed a world-class reception prepared by the local government and the Department of Tourism (DOT) headed by its regional director, Karina Rosa Tiopes during their visit to the world-famous island on Saturday(Feb.11).
The guests, consisting of Americans and Europeans, were on board of the Silverseas Silver Shadow cruise ship who were in the country for a cruise visit with Kalanggaman as their first destination.
They were welcomed by dancers in a festival and colorful costumes.
As expected the foreign guests were exceedingly happy during their short stint on the island.
The guests, who started their cruise in Palau, had a field day enjoying the stunning views and beach of Kalanggaman.
They also savored local foods and refreshments as they were entertained by entertainers, dancing the kuratsa and performing the Lawig Festival.
Tiopes said that she was happy that the foreign guests were pleased with their visit on the island.
"We knew we could give the best that we can. But the words of thanks, appreciation, and such superlative compliments from the Silver Shadow cruise ship guests showed beyond doubt that the Eastern Visayas tourism industry can deliver above par," she said on her post.
Tiopes also expressed her gratitude to tour operators for their support in promoting the region's tourism draws like the Kalanggaman Island.
Kalanggaman Island has been one of the favorite port-of-calls of international cruise ships visiting the country whose guests are into excursion tourism.
The first cruise ship that visited the region docked on the island in 2013, marking Eastern Visayas in the list of international cruise destinations.
Kalanggaman is famous for its sandbar that when viewed from the sky looks like the island a fly bird hence it got its name from the Bisaya term "langgam" or bird.
After departing from the Kalanggaman Island around 11 pm, Silver Shadow will continue its voyage and will dock in Bohol Island on Saturday (Feb. 11), then Romblon Island on Sunday (Feb.11), and will make its final stop in Manila on Monday (Feb. 13) before its journey to Hong Kong.
Aside from Silver Shadow another cruise ship is also expected to make a port-of-call in Kalanggaman this November, Tiopes said.
The pandemic caused by coronavirus disease (COVID-19) has affected the tourism industry as travel restrictions were imposed not only in the country but all over the world.
ROEL T. AMAZONA