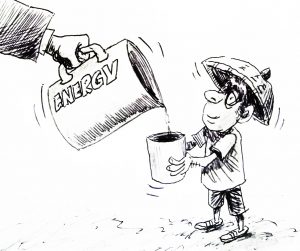 Amid the high and increasing energy rates, our people are hoping that the Marcos administration will make good on its promise to ensure an ample energy supply in the coming months and years as it vows to provide cheap and reliable energy through the promotion and utilization of renewable energy (RE) sources in the country.
In the administration's year-end report, Malacanang said the Department of Energy's (DoE) major plans for 2023 include updating the Philippine Energy Plan, pursuing contingency measures and activities to ensure energy supply during critical periods, and pushing for the continued development of alternative fuel and improving access to electricity.
It can be recalled that in his first State of the Nation Address in July, Marcos cited it as a "key sector" in the administration's push for economic growth and increased employment. He said the country is searching for new power sources while improving the energy supply mix between traditional and renewable sources.
The DoE, in collaboration with the Energy Regulatory Commission, is set to develop policy and framework for new and emerging RE technologies. "These include offshore wind, waste-to-energy, expanded rooftop solar program, as well as ocean and tidal stream energy," the Palace said.
Hence, the Marcos administration has increased investments in RE projects to meet the target of a 35 percent share in the country's power generation mix by 2030 and 50 percent by 2040. From July 1 to Dec. 14, 2022, the Palace said the DoE has awarded 41 RE service contracts with a potential capacity of 9.2 gigawatts (GW). Of this number, around 6.2 GW of equivalent capacity will come from offshore wind service contracts.
These, indeed, are good news to reckon with among energy consumers whose bills have had constantly-increasing amounts payable to local electric cooperatives. These are yet promises at the moment, but we hope to have them realized soon.