To check illegally caught, transport fish products
TACLOBAN CITY– The regional offices of the Bureau of Fisheries and Aquatic Resources (BFAR) and the Philippine National Police (PNP) in Eastern Visayas have entered into an agreement on Wednesday (June 7) to establish a checkpoint at the San Juanico Bridge to ensure that no illegally caught fishes and other marine resources could enter the market or brought outside the region.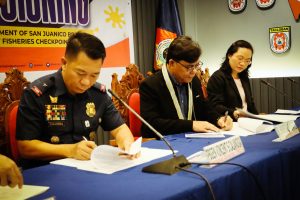 Personnel of both offices will help man the 'fisheries checkpoint' that is located at the Leyte side of the 2.1 kms iconic bridge connecting the islands of Leyte and Samar which is also part of the Maharlika Highway.
By putting up a checkpoint, it will ensure that all vehicles passing the San Juanico Bridge carrying fish and other fishery products have complied with all the safety and quality standards needed in transporting these products either for domestic consumption or for trading purposes, the agreement said, citing its reason.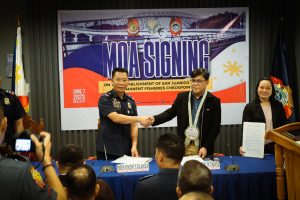 The said agreement is said to be a first of its kind entered between the PNP and BFAR wherein the personnel assigned will check the documents like auxiliary invoice and local transport permits of the vehicles carrying fish and other fishery products.
In the process, the assigned enforcement team will effectively prevent and apprehend illegally caught and transported fishery products, safeguarding the integrity of the checkpoint and ensuring compliance with regulations.
"With great optimism, we anticipate nothing short of positive outcomes resulting from the implementation of the first joint permanent fisheries checkpoint at the San Juanico Bridge. Together, let us continue to work hand in hand, progressing towards a prosperous fishing industry, safeguarded marine resources, and a thriving community," Hannibal Chavez, BFAR regional director, said.
For his part, B/Gen. Vincent Calanoga, the police regional director, assured their counterparts of their total support on this program.
"Rest assured that your police force will provide supplementary personnel and security support to BFAR-8 whenever needed. We will make sure to rally with you to fulfill your programs," he said.
(LIZBETH ANN A.ABELLA/ROBERT DEJON)