TACLOBAN CITY– A more than an hour fire incident gutted down 29 houses in Barangay 43, Quarry district, this city, on Monday (Sept.11) afternoon.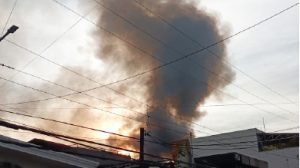 Arson investigators have yet to determine the cause of the fire which displaced 33 families consisting of 345 individuals who were temporarily sheltering at the City Engineering Office (CEO).
The number, however, could increase as many of the fire victims were students and workers who were just renting a boarding house.
One of them was Jay Alcoseba, 21, a third year college student from Basey, Samar, who said he was at their school when the fire broke out at about 4:37 pm.
"I was not able to save anything, including my allowance for the week. I was at our school when the fire hit our boarding house," he said.
The city government, through the order of City Mayor Alfred Romualdez, has extended assistance to the fire victims.
The fire victims received food packs and kitchen and personal hygiene kits from the city government which also provided with modular tents at the CEO.
Based on the report of the City Fire Office, the fire started at a house owned by Catalina Kahano which spread immediately as most of the houses in the area where made of light materials and were situated close at each other.
Aside from the city fire and fire volunteer groups, fire stations from the nearby towns of Palo, Tanauan, Tolosa, Pastrana, Babatngon, Sta. Fe, all in Leyte; and Basey, Samar also helped to put the fire out at about 5:54 pm.
No one was injured during the incident.
Arson investigators have yet to determine the cause of the fire which resulted in the damage worth over P750,000.
(JOEY A. GABIETA)