TACLOBAN CITY– Members of the Freedom of Debt Coalition (FDC) held a protest rally at the Remedios Trinidad Romualdez (RTR) Plaza, considered as the Freedom Park in the city, hours before President Ferdinand 'Bongbong' Marcos, Jr. is to deliver his second State of the Nation Address (Sona) on Monday (July 24).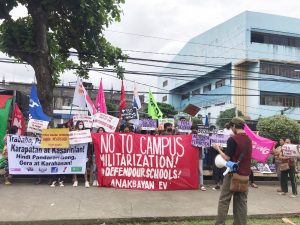 The group, which started their protest rally at around 9 am and ended an hour later, claimed that the Marcos administration has not done enough to improve the lives of the ordinary Filipinos.
"The one-year honeymoon with his administration is now over. And one year later, our situation remains very precarious with the ordinary Filipinos continue to struggle on their daily lives," Gamalo said.
With this kind of governance, the group gave the Marcos administration, which is now on its second year, a failing grade.
"It's a failure. Prices of basic commodities continue to increase. His promised of P20 per kilo of rice remain unrealized," she said.
Gamalo also expressed their deep concern over the recently-approved Maharlika Investment Fund (MIF) as a possible source of corruption.
"Why they have to railroad its passage and approval? We fear that it could just be another source of corruption and will not really help our poor people and our nation," she said.
The MIF was signed into law by Pres. Marcos on July 18 as saying the measure was designed 'to drive economic development' despite of opposition by some leaders and sectors.
The protest rally led by FDC and joined by some students ended peacefully.
(JOEY A. GABIETA)