TACLOBAN CITY—To improve the access road for the local villagers and for faster mobility of agricultural products in the habitats of Barangays Hibunawon and Parasan, both in Jaro, the Department of Public Works and Highways (DPWH) under the Basic Infrastructure Program (BIP) has allotted P8 million for a road concreting project.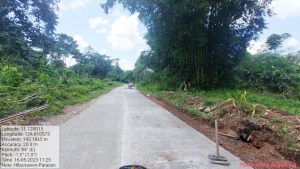 According to Leyte Second District Engineering Office (L2DEO), District Engineer Leo Edward Oppura, the newly- constructed road has a total length of 1.862 lane kilometers and is now being used by villagers.
The newly- paved road will uplift socio-economic activities in the community, allowing locals to lessen travel expenses in terms of fare and fuel.
The delivery of basic products and services to the community will also improve.
Motorists will also benefit from this newly-paved road. Speedier movement and safer travel while traversing the road network will make them more comfortable. And they will no longer endure the slick and muddy road, particularly during the rainy season.
(LIZBETH ANN A. ABELLA)