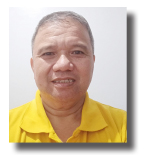 More than the pull of greener pastures on foreign soil is the push of poverty on our country that has long taken the national policy of exporting our human resources. We are not mere helpless witnesses but the affected lot that bear the consequences of our labor force migrating to foreign shores. There too are our seafarers whose lives on the vast seas are on round-the-clock danger as the faces the perils of the seas. We have our medical and health workers, from caregivers, nurses, medical technologists and doctors attending to sick people in various places except our own. As if the brain-drain is not enough, the lack of government support to our athletes had likewise pushed them to seek better gainful employment.
To carry the country's flag in world competitions and on the international sports arena is a dream of every athlete. Just to be selected as part of the national team is truly a great honor that an athlete could share with one's family, community and country. The tale of such rare experience would last a lifetime and beyond, to be told and retold by the present and future generations. One's exploits and victories in the chosen field of sports discipline is a treasure to serve as inspiration and worthy of emulation by the younger generation. Indeed, the invaluable chance of a lifetime to represent the country is the fulfillment of an athlete's dream.
It is why the virtues of nationalism and patriotism get derided when we helplessly watch our athletes march into foreign shores and eventually carry that country's flag not because our athlete lost the love of country, nationalism and patriotism but for the pragmatic move to earn better financial support as he competes in world and international competitions. We have the likes of the child chess prodigy Wesley So migrating to the United States of America where he could get ample support for his campaigns in various world and international chess tournaments. While he still carries his Filipino nationality, every victory he earns under the American flag would just be a claim as an honor for our race.
The recent exodus of our athletes came from the country's national pastime of basketball. It may have escaped notice from the public eye of this basketball republic, but many of our cream of the crop of basketball players from the amateur ranks had taken what appears as the best route to international basketball courts. Already, priced players from the inter-collegiate leagues like Clark Tamayo who is playing for the Dragonflies Kings and Kai Sotto who is playing for the Adelaide 36ers, both in the first professional league in Japan. Both players are making waves in that league and their stint may just attract more Filipino basketball players who could no longer be accommodated in the star-studded roster of the first play-for-pay professional basketball league in Asia, our prestigious Philippine Basketball Association.