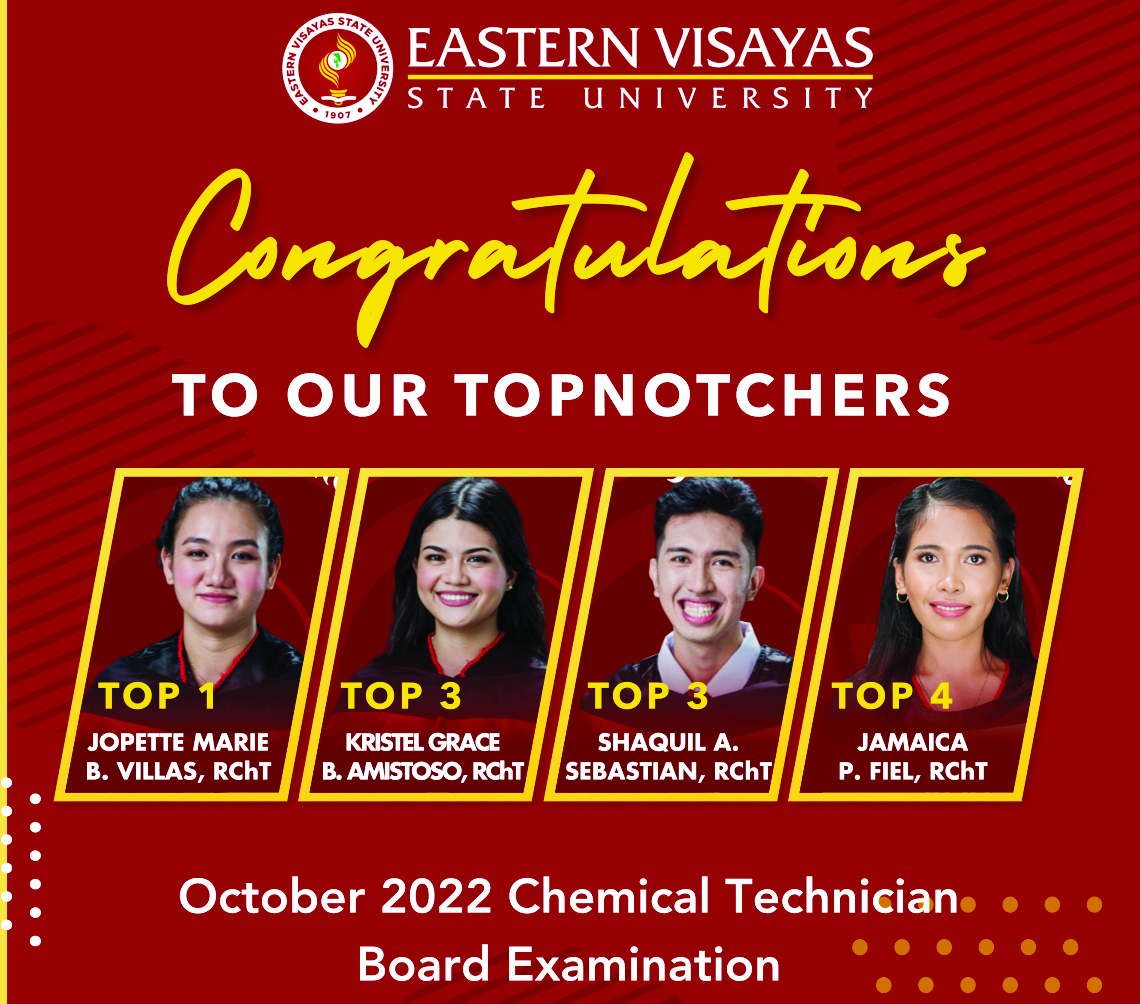 TACLOBAN CITY-The Eastern Visayas State University (EVSU), based here, is in a rejoicing mood.
This after four of its examinees of the chemical technician board licensure board examinations made it to the Top 10.
Top placer Jopette Maria Villas, who obtained a 94% rating, said that she was overjoy when she learned the result.
"I'm happy and thankful and grateful to God for this blessing. I still cannot believe that I'm among the top placers," the 23-year old board acer said.
For his part, Shaquil Sebastian, 22, who with a rating of 93.0% landed third, together with a classmate, Kristil Grace Amistoso.
Aside from Villas, Sebastian, and Amistoso, the other placers from EVSU was Jamaica Fiel, who ranked fourth with a rating of 92.50%.
Sebastian, in a phone interview, said that he could not believe that not only he passed the licensure examination but made it to the top 10 finishers.
"When my friends told me that I ranked number three, I could believe it that I had to see the results for myself," he said.
"It was really overwhelming! I thought I was just dreaming for I had just woke up at that time. I immediately inform my papa and mama and they too were very happy," the eldest among the brood of four siblings said.
Sebastian, who is a scholar of the Department of Science and Technology and graduated as a cum laude together with the other three board placers of their school, said that he felt all the efforts he poured in during his reviews paid off.
"I was actually doing my online review and at the same time, working in a BPO. I just thought that I will not even pass the examination as I thought that I did not answer correctly made of the items in the examination," he added.
For one, the son of a businessman father and a plain house mother admitted that the result has not fully sink in him yet.
"But I am so thankful to our Lord for guiding me during those difficult situations," Sebastian said.
Lydia Morante, the university's information officer, said that they are proud of the performance of their students that despite of the current situation, four of their graduates made it to the top 10.
"We are proud of our performance. Even during the pandemic, our faculty continued its commitment and dedication to provide the best education our students deserve," she added.
It was learned that out of the 66 takers, 45 of them passed the chemical technician board examination conducted last October 19.
Last year, EVSU also produced two Top 10 finishers of the chemical technician board examination, placing fifth and ninth. (JOEY A. GABIETA)