Alfred asks people to have a healthy lifestyle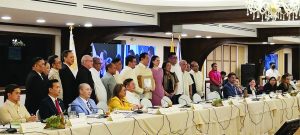 TACLOBAN CITY– After almost six months, the number of active cases of coronavirus disease (COVID-19) in the region has reached over 100 cases again.
The Department of Health (DOH), in its report, said that based on the May 15 to 21 period, active COVID-19 cases of the region have reached to 126.
Of this number, 108 were considered to be new cases.
The last time Eastern Visayas reached the three-figure mark of active COVID-19 cases was on December 12, 2022 which was 105 cases.
Despite the increasing number of COVID-19 cases, the DOH reported that none of the patients were considered to be severely or critically affected by the deadly virus.
"No severe or critical cases admitted in the hospital (and) out of the 491 intensive care unit beds for COVID-19 patients, 10 or 20.42% are occupied," it said on its report.
Tacloban City Mayor Alfred Romualdez, meantime, said that the best way to avoid not to contract the virus is to have a healthy lifestyle, especially during this time of hot temperature.
"I think people have learned their lesson. We can avoid it if we exercise as (a) caution. Let's be careful if the weather changes, pag medyo tag-init naman, tapos papasok pa ang tag-ulan. So kailanga, healthy lifestyle," he said during a recent press briefer.
The DOH said that of the 126 active COVID-19 cases of the region, 108 of these were classified as new cases.
Leyte posted the highest number of new cases with 71 of which 32 are from Tacloban City alone.
Aside from Leyte, the DOH reported 21 new cases in Samar; seven in Biliran; four each in Northern Samar and Southern Leyte; and one in Eastern Samar.
Earlier, Dr. Exuperia Sabalberino, DOH regional director, said that the rise of COVID-19 cases in the region is due to the non-compliance of the mandatory health protocols by the people and the lax of the restrictions.
The health official also reminded the public to get their booster shots against COVID-19, especially those considered to be part of the vulnerable sector like the senior citizens.
JOEY A. GABIETA