On high power cost in East Samar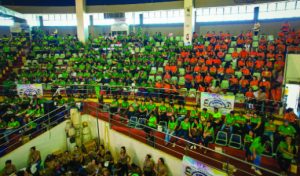 TACLOBAN CITY– Eastern Samar Governor Ben Evardone sought assistance from Interior Sec. Benhur Abalos on the problem of high power cost of the province and the rest of Eastern Visayas.
Evardone said that this could be possible if the renewable power plants operating in their province should be mandated to supply power.
This, the governor added, could result in the reduction of the power rate in their province being the host of the renewable energy plants.
"We are the host of renewable energy plants (but) we are not benefiting from it. If you can help us to come up with a national policy that host communities benefit from the renewable energy plants," Evardone said on Monday (Oct.2) during a dialogue with the secretary of the Department of Interior and Local Government with officials of the region held at Summit Hotel, this city.
"Hindi naman total production nila, a certain portion kasi negosyo din yan," he added.
Evardone said that what is happening at present is that while Eastern Samar hosts renewable energy plants, power are being sold outside the province due to the one-grid policy being implemented by the government.
This results in a high cost of power in the province, the governor added.
"Sana matulungan ninyo kami being our voice in the Cabinet," Evardone said.
Sec. Abalos said that he is with Evardone on his concern and promises to help on this matter.
"I really believe that this policy should be restudied," he said.
Eastern Samar hosts solar and hydropower plants located in the town of Taft which produces a combined 34 megawatts operated by Taft Solar Project.
The power produced from these plants are sold outside Eastern Samar which has one of the highest power rates in the region. Currently, power consumers of the province are paying more than P15 per kilowatt hour.
Eastern Samar Electric Cooperative (Esamelco) gets its power supply from coal-powered GN Power in Bataan province.
ROEL T. AMAZONA /JOEY A. GABIETA