Farmers also express their apprehension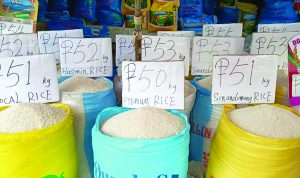 TACLOBAN CITY– Rice traders in the region would not comply with the directive of Pres. Ferdinand Marcos to have a rice price cap which is to take effect today (Sept. 5).
This was disclosed by Frederic Dy, president of the more than 330-strong members Grains Retailers Confederation of the Philippines (Grecon).
He, however, said that their reason for not obeying the order is simply due to business reasons.
"We will not follow that order. Most of us bought our supplies before the issuance of the rice cap order and doing so would lead to our losses," he said.
Dy said that they bought their current bags of rice at about P2,400 which they sell at P47 per kilogram for them to make a profit.
"But at P45 per kilo, we will only earn P2,250. Now, this is no longer business," he said.
Dy, who owns a stall at the city's main public market, said that they were caught by surprise on this directive of the President putting the price of rice per kilo at P41 for regular milled and P45 for well-milled rice nationwide.
"They could have issued that directive as early as February when the prices of rice were skyrocketing. At that time, we have sought for government interventions like rice ceiling," he said.
"So it's wrong timing as it is now a season of harvest which means there will be more supply of rice in the market which could result in lower prices," Dy added.
According to him, most of the retailers like him have stock of bags of rice before the issuance of the directive which is to take effect today, Tuesday (Sept.5).
Dy said that they hope that Pres. Marcos will give them more time before setting the deadline for them to consume first all their stocks which they bought at higher prices for them to recover their expenses.
He also said that the national government should conduct a thorough inventory of all rice warehouses across the country.
This way, they could determine if there is really indeed a rice shortage or just an artificial one created due to hoarding by some unscrupulous rice millers, he said.
"The government should run after them and not to us ordinary retailers," Dy said.
Meantime, farmers are also not sold on the directive on rice price ceiling.
Rodrigo Alumbro, president of the 107-strong members of a farmers association in Barangay Odiongan, Abuyog, Leyte, said that while they are with the move of Pres. Marcos to place a cap on the prices of rice, this would also result in financial losses to them.
"We are not opposing on this move of the President as this will benefit our ordinary rice consumers. However, it will also impact us in a bad way," he said in a phone interview Sunday (August 3).
"With lower prices of rice in the market, traders will also buy our fresh harvest at a lower price to our disadvantage. This will only result for us farmers to take more loans for us to survive," Alumbro,65, said.
He said that from the previous rate of P23.70 buying price by the traders, they are now buying the freshly harvested palay at just P18.50.
"It is the traders that dictate the price, not us farmers. We are at their mercy," Alumbro said.
Alumbro, who tends a two-hectare rice field, said that Mr. Marcos should also look into the impacts of his directive on the plight of the farmers who he said majority are deep in debts.
"He should also provide assistance to us farmers like lowering the prices of pesticides and fertilizers," he said.
He said that in preparing his rice field alone, before planting palay, he needs at least P20,000 of which majority goes to pesticides and fertilizers.
"Of this amount, P8,000 goes for pesticides and another P4,000 at least for fertilizers unless we can get some help from the Department of Agriculture," Alumbro said.
For his part, Ruben Latoja, president of the Pangpang farmer's association in Villareal, Samar, echoed the same sentiment of Alumbro saying this will only further push the farmers into poverty.
"It will never make the farmers improve their economic condition but would result in further debts because the traders will buy our harvest at a very, very low price," he said.
According to the 42-year-old farmer, traders in their area buy their newly harvested palay at P11 to P12 per kilograms.
"If the President will push this order, he should subsidize the inputs of the farmers like fertilizers and pesticides," Latoja said.
Incidentally, Mr. Marcos sits as the concurrent Agriculture Secretary.
JOEY A. GABIETA