Commemorative programs restricted due to COVID-19 pandemic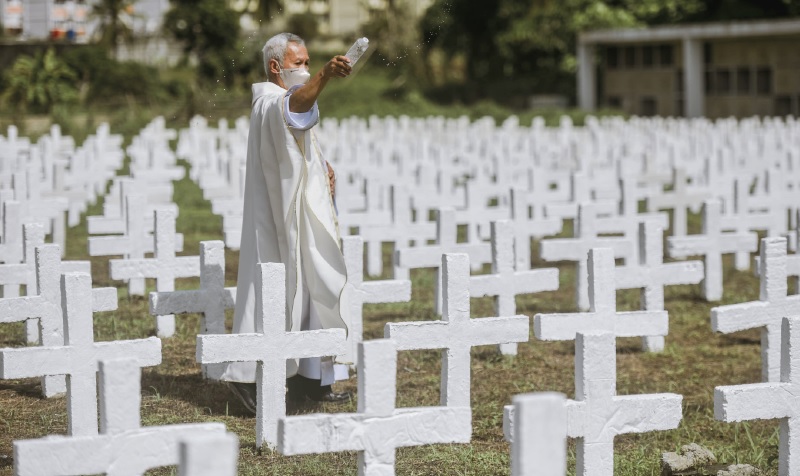 TACLOBAN CITY-Unlike in previous commemorations of the onslaught of super typhoon 'Yolanda,' this year's anniversary-its seventh- was almost without notice.
The city government and other parts of the region were restricted to conduct the usual activities which involved mass gatherings during the commemoration of Yolanda's onslaught due to the pandemic caused by coronavirus disease (COVID-19).
Last Sunday(Nov.8) marked the 7th year anniversary of Yolanda's wrath that resulted to the death of more than 6,000 people with still thousands more remain missing.
But despite of the restrictions, Norie Dosol,59, still managed to visit the mass burial grounds located in Barangay Basper where she believes her 17- year old son, Ronnie, could have been buried.
The city's more than 2,200 people who died due to the wrath of Yolanda were buried at the mass grave with those who have lost their loved ones 'chose' a particular tombstone as where they believed their loved ones could have been buried.
"I don't really even know if he was indeed buried here but having a place where we could visit him somehow give us a sense of comfort," Dosol, who was joined by her three children and a granddaughter, said.
They placed three pieces of white candles at the top of the grave as they silently offered prayer to his son.
According to her, her son Ronnie, the sixth among the 11 siblings, went to report for his first day of work on November 8, the day the super typhoon struck the city seven years ago.
"He was so happy that finally he has a work but we did not realize it would be our last time to see him," the still grieving mother said.
Ronnie worked in a beach resort located in Barangay 88, San Jose district, considered the worst-hit area in the city due to Yolanda.
They never found his body and just believed that he was among those buried at the mass grave.
Tacloban City Mayor Alfred Romualdez, who led the simple commemoration held at the mass grave marked with a Mass and candle lighting, again expressed his gratitude to the international community and other those who extended their assistance to the people of the city, making its recovery quite fast.
He also said that today's commemoration is a thanksgiving to God for giving the people a 'second chance' to live.
Romualdez said that he hopes that seven years since Tacloban was devastated by the world's strongest typhoon to hit inland, the people have learned their lessons that the massive typhoon was a product of mankind's destruction to Mother Nature.
Romualdez has also called the people of Tacloban to extend their cooperation now that the city is facing another pandemic that has already claimed 15 lives.
Tacloban, with 959 total cases of COVID-19, is under general community quarantine which restricts the movements of the people.
On the night of the anniversary, people lighted candles at their doorsteps and in the streets as their way of giving honor to those who died due to Yolanda blamed mostly of the storm surge that slammed to houses and buildings.
Elsewhere, the local governments of Palo and Tanauan, two towns in Leyte that were also devastated by Yolanda, also held simple ceremonies on Sunday.
Leyte Governor Leopoldo Dominico Petilla spearheaded a simple remembrance program for those who perished due to Yolanda held at the provincial capitol building.
"In this commemoration, we remember and offers our thoughts and prayer to the victims who died and we also offer our thoughts to those who survive, especially our provincial government family who despite the fact that we are also victims of the super typhoon we still report to work, even we have to walk from our home to the office due to absence of transportation," he said in his message.
Petilla joined by Vice Governor Carlo Loreto and other officials of the provincial government, offered flowers and candles to those killed by Yolanda.
In Palo town, a similar program was held led by Mayor Frances Ann Petilla and her husband, Jericho 'Icot' Petilla.
An Waray Rep. Florencio 'Bem' Noel also joined the said commemorative program as well as those held at the nearby towns of Tanauan and Alangalang.
In Guiuan town, Eastern Samar where the first landfall occurred, a Mass was held to give honor and respect of those who died due to Yolanda.
Meantime, Archbishop John Du, in his message, said that despite of the tragedy, those who survived the onslaught of Yolanda have something to be thankful to the Lord.
"As we commemorate the disaster that has claimed thousands of lives, destroyed heavily our properties, and instilled much fear in us, the super typhoon Yolanda, we can only look back with much lamentation," Du said.
"But as we pray to our brother and sisters who perished we also thank the Lord for the blessing that poured in and helped us to recover from our loses.May our experience of the super typhoon remind us to put our trust in God always and help us to be more generous to those who are in need," the archbishop added.