Over 120,000 families affected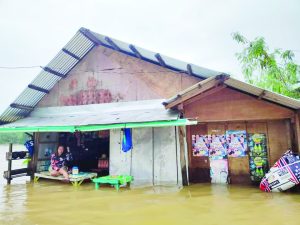 TACLOBAN CITY-The death toll due to the non-stop rains across the region now reached to seven as 120,716 families consisting of 466,745 individuals have been affected by the flooding, based on the reports of various provincial local disaster councils.
All the deaths were due to drowning, reports said.
Of these fatalities, three from Eastern Samar; two each from Leyte and Northern Samar.
The deaths in Eastern Samar, which suffered the brunt of the continuous rain beginning Monday, were from the town of Dolores(one), Sammy Losanggo, and two from Borongan City involving elderly couple, Winefreda Asis,70 and her common-law husband Carlito Dagumay, 73 whose boat they were on board capsized.
The two deaths from Leyte were from the town of Mahaplag identified as Dioscoro Obligado, 53; and Rufo Rallos of legal age.
Meantime, a man from Laoang town, Roger Narca, 52, was found dead believed to have been drowned just outside his house in Barangay Catigbian which was hit by flooding.
A soldier, Capt.Jerry Palacio, died as he was swept away while crossing a river in Brgy. Happy Valley, San Isidro town, also in Northern Samar.
The National Disaster Risk Reduction Management Council said on its advisory that the region will continue to experience nonstop rain which could result to flooding and landslide incidents.
Meantime, the number of affected families in the region has now reached to 120,716 comprising 466,745 individuals.
Of this number, 72,186 families involving 248,968 persons were from the province of Eastern Samar; 19,503 families or 97,515 persons were from Northern Samar; 17,930 families(72,128 individuals) were from Leyte; 1,285 families or 6,425 persons were from Biliran; and seven families or 35 persons were from Southern Leyte.
Meantime, the regional Office of Civil Defense (OCD) reported of over P129.74 million of destroyed agricultural products due to the massive flooding.
The province of Eastern Samar reported of biggest damage to its agricultural sector at P104.35 million followed by Samar with P17.66 million; Northern Samar, P5.64 million;Leyte,P2 million and Southern Leyte with 78,000.
The towns of San Miguel in Leyte; Basey and Gandara, both in Samar; and Dolores and Can-avid, both in Eastern Samar, are now in a state of calamity due to the extensive damages they have suffered due to the incessant rains.
JOEY A. GABIETA, ROBERT DEJON, ROEL T. AMAZONA