Submits courtesy resignations along with other top execs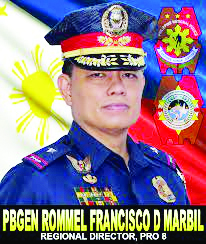 TACLOBAN CITY– Police Regional Director B/Gen.Rommel Francisco Marbil signed publicly an affidavit attesting that he is not involved in any illegal drug activities and other forms of criminal activities on Tuesday (Jan.10).
Marbil made the act amid the appeal of Interior Sec. Benhur Abalos for all high-ranking police officers from full colonels to generals to tender their courtesy resignations amid continued fight of the government of illegal drugs activities, in particular.
The Eastern Visayas police regional director and 20 other concerned officials have already submitted their courtesy resignations beginning on Jan. 5.
Among those who submitted their courtesy resignations were the six provincial directors and Marbil's two deputies, Col. Salvador Alacyang, who is the chief for operations, and Col. Michael David, regional staff chief.
Marbil said that he decided to sign an affidavit witnessed by the region's top police officers and the 400 newly-promoted police officials to attest that he is not involved to any illegal activities, particularly on the prohibited drugs.
"I categorically state under pain of perjury that I am not involved in any form of illegal drug activity or in any form of illegal or criminal activity," the police regional director said in his affidavit as he read during a press conference called by the Philippine Regional Police(PRO-8).
He also claimed that he has never received any bribe money from those engaging in illegal activities and neither condone such acts.
Marbil, who's been in his post since August 8 of last year, stressed that when he learned that all high-ranking police officers were requested to submit their courtesy resignations by Sec. Abalos, he followed it without questions.
"There was no ifs and buts. I submitted by courtesy resignation as (appealed by) SILG Abalos," he said.
He also stressed that he is giving his full to Sec. Abalos and to his Commander-in-Chief, Pres. Ferdinand 'Bongbong' Marcos, Jr.
"I assure the public that no police personnel from PRO-8 is involved to any illegal drug activity or any illegal activities. If there is one, I will tender my resignation. The buck stops with me," Marbil said.
He is also confident that all police officers from the region who have tendered their courtesy resignations will be exonerated from any possible links of illegal activities.
Meantime, Leyte police provincial director Col. Edwin Balles admitted that he was hesitant in submitting his own courtesy resignation.
"Honestly, it was a mixed emotion. The people are looking on us. Whatever I have achieved in my 25 years in service is a product of sacrifice," he said.
"But I understand the rationale behind this move. I am accepting the full process to once and for all, to cleanse the organization and purge the misfits and scalawags," he said.
Balles, who has been in police organization for 25 years, have submitted his own courtesy resignation on Jan.6.
The region has more than 10,500 active police personnel.
(LIZBETH ANN A. ABELLA /JOEY A. GABIETA)