The shore protection project is worth P57.5M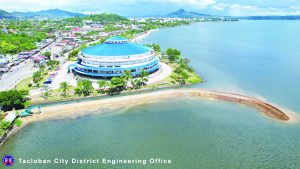 TACLOBAN CITY-The Environmental Management Bureau (EMB) of the Department of Environment and Natural Resources (DENR) regional office issued a cease and desist order on a shore protection project of the Tacloban City District Engineering Office (TCDEO).
The April 4, 2023 notice of the EMB was due to the failure of the TCDEO to secure the environmental compliance certificate (ECC).
An ECC is a document issued by EMB certifying that based on the representation of the enterprise, in this case, the TCDEO, a proposed project will not cause significant environmental impact.
The shore protection project is located along the coast of the Cancabato Area in Sagkahan District, this city.
It cost about P57.5 million with a length of 210 meters and a height of four meters. It is 120 meters away from the coastline.
It is located where the city's astrodome is situated which serves as an evacuation center during typhoons.
The astrodome was also among the few structures in the city that was not destroyed when it was hit by Super Typhoon 'Yolanda' in 2013.
Leyte Samar Daily Express reached TCDEO through its public information unit for a statement but did not get any reply.
But a personnel assigned at the site of the project said that they have stopped working on the project a week ahead of the issuance of the order on April 4.
"We learned about it one week before the EMB made its order which is posted on the project site. We are not aware that the TCDEO has not complied with the needed requirement," the personnel, who asked not to be named, said.
It was learned that the shore protection project started on February 19 of this year and is supposed to be completed within 229 days.
Aside from being a protection against the rise of seawater, the project is also being seen as an area for biking and walking.
JOEY A. GABIETA