Scout Rangers deployed to Northern Samar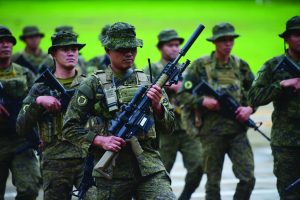 TACLOBAN CITY– Members of the elite 21st Scout Ranger Company (SRC) arrived from Mindanao to Eastern Visayas with the aim of ending the insurgency problem in Northern Samar province.
The company-sized elite soldiers arrived at the 8th Infantry Division headquarters in Catbalogan City, Samar on Friday (Feb. 17).
Major Gen.Camilo Ligayo, the commanding officer of the 8th ID, described the arrival of the Scout Rangers as a 'game changer' in the fight of the government troops in Eastern Visayas against the communist armed group, the New People's Army(NPA) and crush its insurgency problem in the process.
"Truly it is overwhelming feeling how the higher headquarters manifest their support to the division's campaign by sending the elite forces to augment our troops deployed on this island. With their vast experiences, am confident with these advantages surely, we will be victorious in this battle," he said in a statement.
Ligayo also reminded the 200-strong troops led by Lt. Col.Ricarte Dayata not to be complacent as they will be confronting rebels who will try to defend their 'last bastion' in the region.
"Your unit has displayed a high sense of professionalism and competencies in your previous deployment and has been a game changer in every employment. I trust that everyone remains mission-oriented and always respect human rights," he said.
Ligayo said that the troops will be deployed in Northern Samar where four of the five remaining guerilla fronts are operating.
It was learned that the 21st SRC made significant accomplishments against the rebels operating in Paquibato District in Davao.
They also played significant role in the four month-long battle against the ISIS-Maute Group in Marawi City.
Prior to their deployment to the region, the elite force underwent training both locally and abroad to further enhance their capability to counter-insurgency operations.
Ligayo had earlier said that the insurgency in region will be quell early this year.
The presence of rebels have been cited as among the reasons why Eastern Visayas are finding difficulties in attracting investors.
JOEY A. GABIETA