BURAUEN, Leyte – The first day of classes at the Maghubas Elementary School,this town,went smoothly, contrary to what was feared earlier.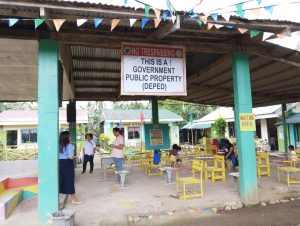 The lot where the school stands is being contested by a family claiming that they were not aware that it was donated by a relative to the local government.
Leyte schools superintendent Mariza Magan personally went to the school to check on the condition in the area, especially to ensure that classes in the said school would not be interrupted due to the dispute between the family claiming ownership of the lot and the school management.
School principal Herbert Del Pilar said that this problem of property dispute had resulted in the decline of enrollees this year.
From last year's 160 enrollment, this year's number of students has dropped to 140, he said.
"But I told the parents not to fear because many are helping us," Del Pilar said.
It was learned that parents transferred their children to Burauen Central School which is over a kilometer away from Barangay Maghubas, where the school is located.
Village chairwoman Monica Enerlan said that they are always ready to help the school management on this problem saying this is affecting the students.
Enerlan along with other barangay officials of Maghubas was also present during the opening of classes on Tuesday (August 29).
Cases have been filed against the heirs of the owner who donated the lot to the local government in 1966 but whose document of deed of donation was only 'perfected' in 2021.
On that year, the family that claimed ownership has up a barricade inside the school campus and even destroyed some of the school's properties.
"Hintayin na lang po natin kung ano ang magiging resulta, anyway nasa korte na po yan. Ang request ko lang while yan ay nasa korte at under litigation status quo lang muna dahil hindi naman natin sila pinapaalis, at sana lang wala silang gagalawin sa paaralan," Magan said.
Based on information from school personnel, the claimant had destroyed the school concrete fence to construct an extension of their house. Said extension had resulted in the claimant to occupy several square meters of the school campus mainly affecting their school perimeter fence and school plaza.
Rebecca Pacala, one of the claimants, when asked for her comment over the issue at Maghubas Elementary School, said that they are only fighting for their right as the rightful owner of the property being the legal heirs of their father who donated the contested lot to the LGU.
(ROEL T. AMAZONA)