TUNGA, Leyte– Allan Laniba, president of the National Association of General Managers of Electric Cooperatives (NAGMEC), who manages two Leyte electric cooperatives, Leyte III Electric Cooperative Inc. (LEYECO III) in Tunga, Leyte, and Don Orestes Romualdez Electric Cooperative Inc. (DORELCO) in Tolosa, Leyte, was selected as one of the speakers at the recently concluded National Rural Electric Cooperative Association (NRECA) Power Xchange in Nashville, Tennessee.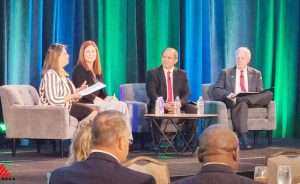 Laniba who was among the 68 representatives of the country had the opportunity to present the strategies and best practices of Philippine electric cooperatives to the largest gathering of more than 6,000 leaders of electric coops around the world.
He thanked NRECA for helping the Philippines draft the Electric Cooperative Emergency and Resiliency Fund Act, a measure providing support to electric coops adversely affected by calamities.
Approved on June 29, 2018, Republic Act 11039 mandates the creation of an Electric Cooperatives Emergency and Resiliency Fund (ECERF) to be managed and administered by the National Electrification Administration (NEA).
"Every time the electric cooperative is struck by a typhoon or any calamity, there is a fund from the government that will subsidize our restoration and rehabilitation. And we thank NRECA for guiding us in drafting that fiscal policy of our government," Laniba said in a panel discussion.
Laniba said that out of seventeen regions in the Philippines, sixteen, comprising 95% of the country's population, are lit by electric cooperatives.
He also revealed that the two congressmen from the electric cooperative sector provided a lot of help to promote the advocacies of the electric cooperatives in the Philippines.
"You have here a political action committee; I think we have the Philippine version. Last congress, we sent four congress representatives from our sector in the electric co-op.
Lately, we have two representatives: one is the general manager of an electric cooperative, and the other is the president of the board of directors," Laniba explained.
In the 2019 elections, electric cooperative consumers throughout the country helped send four party-list lawmakers to Congress, known as the "Power Bloc". However, in 2022, only two seats were retained for Reps. Presley de Jesus of PHILRECA and Sergio Dagooc of APEC.
NEA Administrator Antonio Mariano Almeda, other NEA officials, PHILRECA Executive Director and General Manager Atty. Janeene Depay-Colingan, as well as electric cooperative general managers, boards of directors, and ICT officers were also present during the conference. (PR)