TACLOBAN CITY– Another laying of asphalt overlay project is ongoing along the portion of Mayorga – La Paz road section.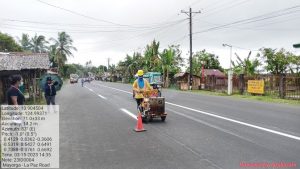 The Leyte Second District Engineering Office of the Department of Public Works and Highways (DPWH) reported that a total of P10.17 million under asset preservation program – preventive maintenance has been allotted to cover the 1.86 lane kilometers of asphalt overlay and application of reflectorized thermoplastic marking on top of the existing pavement surface in the villages of Calipayan and Mabini, both in Mayorga town, Leyte.
Leo Edward Oppura, district engineer, said that the project engineers were directed to take advantage of the good weather in implementing the project, especially on the preventive maintenance projects and particularly on the asphalt overlay projects, which need dry weather for the laying of asphalt paving mixture.
Asphalt overlays provide a smooth road, improve the ride quality, reduce noise levels, and reduce the full life cycle costs of the surface.
Motorists and travelers can expect smoother and faster access to schools, health care facilities, government centers, and other public and private establishments in the area now that the road has been improved.
The project's implementation started on February 17, 2023 and is expected to be completed on or before April 4, 2023. It is funded under the DPWH-CY 2023 General Appropriations Act.
Aside from this project, the district office is also implementing an asphalt overlay project in Barangay Bonifacio, also this town along the road portion of the Mayorga-La Paz road section.
The Mayorga-La Paz road section, classified as a tertiary road, measures 5.975 kilometers, with the junction in Daang Maharlika and Burauen town proper.
(LIZBETH ANN A. ABELLA)