MERIDA, LEYTE – The Department of Public Works and Highways (DPWH) Leyte 4th District Engineering Office (DEO) completes the Preventive Maintenance project along Palompon – Isabel – Merida – Ormoc (PIMO) Road.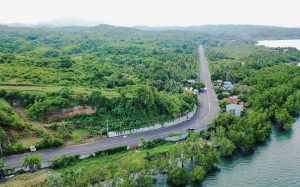 This endeavor, which involved an asphalt overlay with thermoplastic road markings covering a distance of 1.073 lane kilometers and a width of 14.2 meters, was carried out in Brgy. Libas, Merida, Leyte and amounted to Php 51,482,750.00 funded under the General Appropriations Act (GAA) 2023.
Before the asphalting, motorists like Mr. Roldan Gonzalo had experienced several challenges while traversing the road section as the absence of smooth road surface often resulted in a bumpy ride and during inclement weather, water would accumulate in pools on the road.
With its completion, the road condition has improved remarkably. "Nindot na siya agi-an kay ang sakyanan smooth na kaayo ug dagan (Passing the road is now pleasant because the vehicle runs very smoothly)," stated Mr. Gonzalo. He also noted that the thermoplastic markings have been very helpful since they offer clear navigational guidance especially during nighttime travels.
As motorists continue to traverse PIMO Road, they can now look forward to a significantly enhanced driving experience with a seamless and well-marked road that minimizes the risk of accidents and ensures a safer commute. (PR)