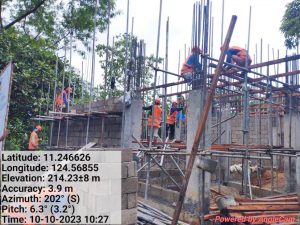 CAPOOCAN, Leyte – The Leyte 2nd District Engineering Office (L2DEO) of the Department of Public Works and Highways (DPWH) has commenced the construction of a school building at Visares National High School (NHS), this town.
The P4.98-million school building project involves two classrooms in a one-story building.
Each classroom measures 7 meters by 9 meters and is equipped with comfort rooms, lighting fixtures, blackboards, fire protection equipment, and wall fans, ensuring a more conducive learning environment for both students and teachers.
According to District Engineer Leo Edward Oppura, the project would provide the teachers and students with a better ambiance, a more comfortable environment, and spacious classrooms. Likewise, it eases the schools' burden of catering to a large number of enrollees with not enough classrooms.
The DPWH and the Department of Education (DepEd) are partners in strengthening the School Building Program (SBP) in order to address the nationwide classroom gaps, which continue to be one of the key issues facing the basic education sector.
The construction of the project started on August 9, 2023, and is expected to finish by the end of the current year under the DepEd's Basic Education Facilities Fund.
(LIZBETH ANN A ABELLA)