TACLOBAN CITY– As part of the agency's asset preservation program, the Leyte Second District Engineering Office (L2DEO) of the Department of Public Works and Highways (DPWH) is now implementing an asphalt overlay project along the Dulag-Julita-Burauen road section.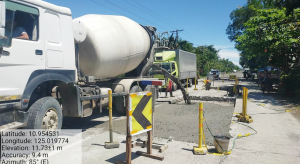 District Engineer Leo Edward Oppura said that the project traverses the villages of Combis to San Vicente in Dulag town.
He then added that the road improvement project involves the reblocking of damaged pavement in intermittent road sections, an asphalt overlay, and the installation of thermoplastic pavement markings to improve travel safety and reduce traffic accidents.
Funded under the 2023 General Appropriations Act (GAA), the project is now 25% of its work accomplishment and is expected to be completed on or before June 13, 2023.
DPWH implements a preventive maintenance project to help prolong the service life of roads by minimizing premature deterioration of pavement brought on by the passage of heavy vehicles, and completion of the project will improve vehicular traffic flow along the Dulag-Julita-Burauen road section, a tertiary road.
(LIZBETH ANN A. ABELLA)