NSSDEO, Brgy. Burabud, Laoang, Northern Samar– Department of Public Works and Highways (DPWH) Secretary Manuel Manligas Bonoan visited the Northern Samar 2nd District Engineering Office (NS 2nd DEO) and attended the inauguration ceremony of the Samar Pacific Coastal Road (SPCR) Project located at Brgy. Simora, Palapag, Northern Samar, on July 14, 2023, Friday.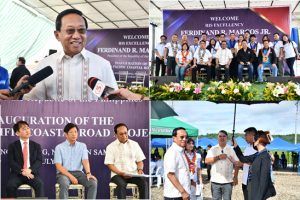 Sec. Bonoan was accompanied by high-ranking Department officials like Senior Undersecretary Emil K. Sadain of the Unified Project Management Office (UPMO); Usec. for Special Concerns and Chief of Staff of the Office of the Secretary, Carlos G. Mutuc and Usec. for Regional Operations in NCR, Regions III, IV-A, IV-B, V, VI, VII and VIII, Roberto Bernardo.
Others in the party include Special Assistant to the President, Antonio Ernesto Lagdameo; South Korean Ambassador to the Philippines, Lee Sang-Hwa; Korea Export-Import Bank (KEXIM Bank) Director, Jaejeong Moon; Korean Embassy Third Secretary Kim Dosik; UPMO Roads Management Cluster II Project Director Sharif Madsmo Hasim; UPMO Project Manager Teresita V. Bauzon; Project Contractor and Manager Young Kil Bae of Ilsung Construction; DPWH RO8 Regional Director Edgar Tabacon; Northern Samar Governor Edwin Marino C. Ongchuan; NS 2nd District Harris Christopher Ongchuan; and some of the local government officials of the province.
The SPCR project is intended to link the so-called "Pacific Towns" which would complement and eventually establish a circumferential road loop in Samar Island. It is among the flagship infrastructure projects of the department in the region which is projected to bring industrial developments, economic growth and poverty reduction in the area.
In addition, the road project is envisioned to enhance the development of potential agricultural lands and fishing grounds of the province and facilitate the movement of goods and services by providing access to major road links that would propel the development of the regional industries.
Moreover, travel is no longer a burden to commuters nor a hampering factor as this would offer comfort and safety to the commuting public.
"After a long process of project preparation that took more than 5 years, the actual construction was started 2018 under the "Build, Build, Build" infrastructure program of the past administration, it was not an easy job to implement the project considering some issues including weather disturbances, the effect of the CoViD pandemic and security issues, nonetheless, with the help and assistance of the National and Local Government Officials of Northern Samar, they worked together and the implementation continue down and eventually completed only last month, June 2023.", Sec. Bonoan said as he expressed gratitude in realizing the project.
Sec. Bonoan, also said that the SPCR 2 is now currently under process for possible continued financing of the Korean EXIM Bank. It will involve another improvement of 15-kilometer road towards the island town of Laoang including the construction of two (2) relatively long bridges.
"It is also aligned to the Philippine Development Plan for the 2023-2028 to eradicate poverty and raise the standard of living of the Filipino people.", he added.
After the event, the team proceeded to the NSSDEO for a brief rest and sumptuous lunch, after which, the party proceeded to Catarman town where they stayed overnight before heading back to Manila.
(LYCA MAE T. QUILICOL, PIO ALTERNATE)