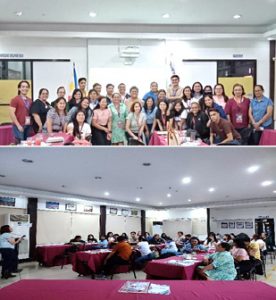 NSSDEO, Brgy. Burabud, Laoang, N. Samar– The Regional Public Information Office VIII of the Department of Public Works and Highways conducted the CY 2023 District Information Officer Face to Face 2nd Quarter Coordination Meeting at the DPWH Mini Training Room, Baras, Palo, Leyte, on June 16, 2023.
The coordination meeting was attended by the Designated Information Officer and one alternate PIO staff member of every District Engineering Office in the region; thus, Lyca Mae T. Quilicol and Zyra Joy Ching represented the Northern Samar Second District Engineering Office (NSSDEO) as the designated information officer and alternate PIO staff member, respectively.
The Regional Public Information Office (RPIO) head, Cressida Paula Delmo-Mangaporo, presided over the meeting.
Since the discussion's major goal is to provide a reorientation of the current standards and practices for the management of the Public Assistance and Complaints Desk, it primarily focuses on the Anti-Red Tape Act (ARTA) and the Public Assistance and Complaints Desk (PACD).
Mangaporo stated that a surprise audit will be conducted to see if the ARTA is strictly implemented and as focal persons, PIOs are assigned as frontliner and fighters who have the bullet. The reorientation holds significance in the upcoming ARTA's surprise audit.
Further, an online survey is now practiced for convenient transactions and recording of feedback. The discussion concluded with Mangaporo giving a demonstration of live filling out of the CuSSA and how to manage the information the customer is reluctant to disclose is part of the example.
(ZYRA JOY J. CHING,PIO Staff)