TACLOBAN CITY – The regional office of the Department of Health (DOH) has turned over to the municipal government of Bato, a sea ambulance, a first of its kind in Leyte.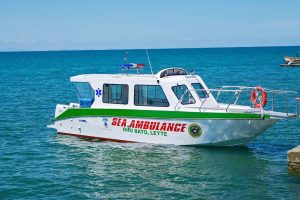 The ceremony was held at the port of Bato graced by DOH-8 regional director Exuperia Sabalberino, Leyte Board Member Michael Cari, Mayor Nathaniel Gertos, Bato Municipal Health Officer Dr. Probo Quijano, and members of the Bato municipal council.
The sea ambulance, valued at P4 million, was procured through the Health Facilities Enhancement Program's (HFEP) fund allocation last year of the health agency to support the local government units of the region.
The ambulance is equipped with a stretcher, automatic external defibrillator (AED), nebulizer, portable suction machines, oxygen cylinder, and other medical equipment and accessories.
With a sea ambulance, island villagers of the town can now be assured of health services.
"The sea ambulance can be used to transport individuals in need of immediate care to the appropriate health facilities," Sabalberino said.
"We hope that this sea ambulance will support the implementation of universal health care in your municipality… (And) receive quality and affordable health care services. Through this, I'm very positive that there will be an improvement in terms of access of all the constituents of this municipality to quality health care services," she added.
Mayor Gertos was thankful to the DOH for choosing them to receive the sea ambulance adding that his administration together with the rural health unit has been working hard to ensure that the medical and health needs of the people are provided.
Aside from sea ambulance, the DOH-8 also turned over to the LGU an infirmary worth P8 million.
Aside from Bato, other towns in Eastern Visayas that were previously given sea ambulance were Tarangnan in Samar, and the towns of Biri, Capul, San Antonio, and San Vicente, all in Northern Samar. (ROEL T. AMAZONA)