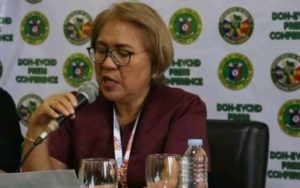 PALO, Leyte- The regional office of the Department of Health assured the public that they are doing their best to contain the spread of the coronavirus disease 2019(COVID-19) as it confirmed that there is now one confirmed case.
According to Dr. Minerva Molon, the health regional director, the patient confirmed to have the virus is currently confined at the Eastern Visayas Regional Medical Center (EVMC) and should be a cause of alarm that she could further infect others.
Molon also said that the virus could be spread thru droplets and mucus and not airborne.
She further added that the people should remain calm and should not panic because when they become anxious the tendency, they tend to lose focus.
The health official also said that the patient is now recovering, a good indication that one could recover from the disease.
"Now that there is a patient positive for COVID-19, the more that people should be careful. We should triple our efforts," said Molon.
The 1st case in the region is a 51yo woman who is from Catarman, Northern Samar.
The DOH received the test result from the Research Institute for Tropical Medicine on March 23, the same day the patient was supposed to be discharged from her confinement at the EVRMC. (LIZBETH ANN A. ABELLA)